There's a party for my book, at 6.30pm, Tuesday 13th April, and you're all invited!
Y'all, I am so excited about this. Not LEAST because I am being introduced by the very lovely Penni Russon, who has written books I have raved about before such as Indigo Girls and Dear Swoosie. She's an Australian treasure, and the way she writes wonderful, complex female friendships is something I especially envy.
ALSO my Mum is coming. From New Zealand. I am pretty excited about that, no lie.
I hope you will come too. Please do RSVP though, since I need to know how many drinks and such to prepare. I don't want to leave you thirsty!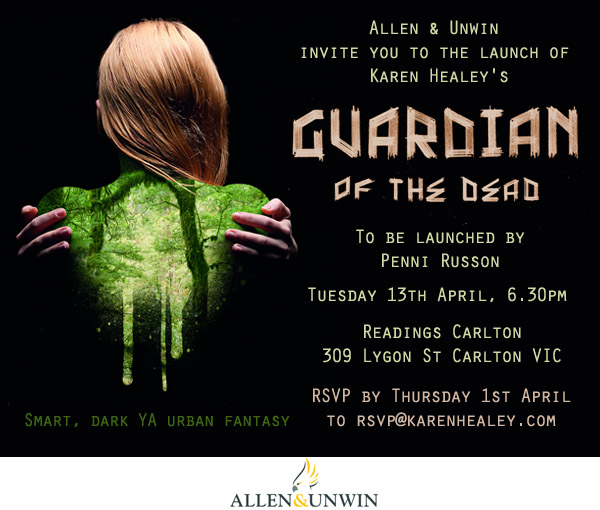 Allen & Unwin invite you to the launch of Karen Healey's GUARDIAN OF THE DEAD

To be launched by Penni Russon

Tuesday 13th April, 6.30pm

Readings Carlton
309 Lygon St, Carlton, Vic

RSVP by Thursday 1st April
to rsvp@karenhealey.com