Mmmm, cooking. I like it a lot. I sometimes have to force myself to remember that.
So this week I took a picture of dinner every night, and now I show them to you. THIS SUSTAINS THE WRITER BRAIN.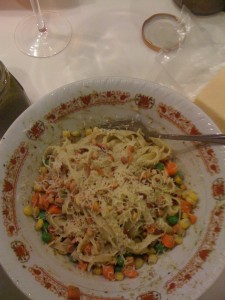 Fettucine with carrots, corn, and peas, pesto, toasted pine nuts, parmesan and black pepper.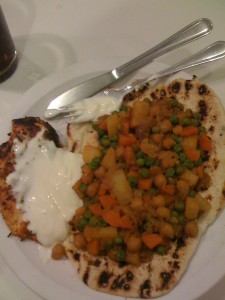 Baked and grilled chicken breast which I marinated in some Portguese packet marinade (next time I think I'll just make it up myself) with yoghurt, and chickpea wat with potato, red onion, peas, and carrots that took freaking forever to cut into little chunks on naan. I cut the already wimpy spice ratio by halving the cayenne and doubling the cumin, so lovers of authentic Ethiopian cuisine are staring at me in disbelief right now, but I don't care, it was delicious.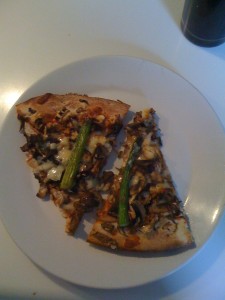 Wild mushroom and asparagus pizza from Crust. This is actually breakfast the next day, because I forgot to take a picture at night, on account of the lovely Alaya was fascinating me with her lovely company. She rightly pointed out that anything with button mushrooms on it ought to lose the right to call itself wild.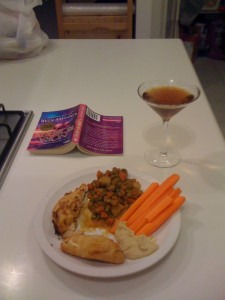 Leftovers night! Half a marinated chicken breast, the last of the wat, some carrot sticks and hummus and a mini croissant with brie. Drink is a chocolate orange martini, book is a Nora Roberts one from the Stars of Mithra series, regrets are non-existent.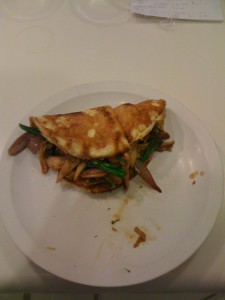 Stirfried red onion, oyster mushrooms, shiitake mushrooms and broccolini in a big omelette.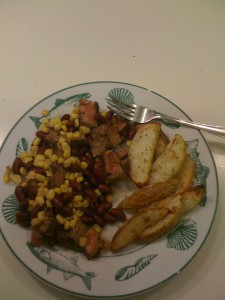 Steak, bean and corn salad in a cumin and lemon dressing, with oven wedges flavoured with rosemary and sea salt.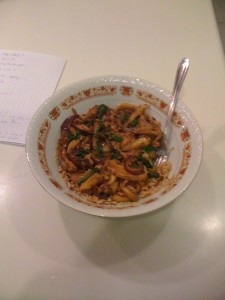 Exactly the same stuff in the omelette, but this time on brown rice! I love brown rice, so awesomely chewy.
So that was My Week In Food, internets! Not gonna lie, it was pretty great.
Cumulative donations for Reviewathon: $35
Hours I will be reviewing: 6
Donations needed to make me review another hour: $29