Internets, I have been hard at work and I am awaiting news on various things, AS ONE DOES. If I had known that being a writer would involve so much waiting, the activity to which I am of all in the world least suited, I might have chosen another aspiration*.
While waiting, I did such splendid things as visit La Valla in Bendigo, a very nice school with excellent students, where I did some writing workshops with the Year 8 students. I was there in the company of the fabulous Lili Wilkinson, and while the fabulous Lili talked plot structure, I led some activities on setting.
I do love to construct setting. Possible because it is the most procrastination-riddled aspect of writing.
So here are some more pictures, supplying a little detail into the setting of my life.
About ten days ago, I went to the Melbourne Zoo. I have mixed feelings about zoos, but as they go, Melbourne's is a nice one – a lot of effort made to keep the animals entertained and active, a lot of care taken in planning their habitats.
Tokyo Zoo, eugh.
Anyway! There were baby elephants: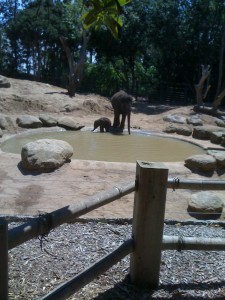 And gibbons who wanted to know who I thought I was looking at: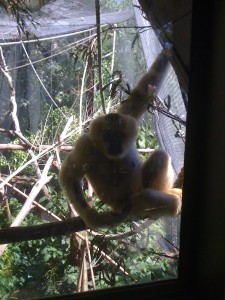 And a pygmy hippo, sublimely uninterested in anything but having a good time in the pool: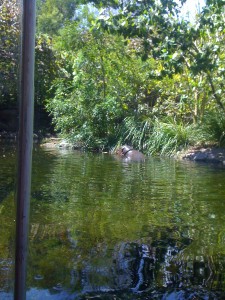 A few days afterwards some money came in – hurrah! – and I, as I always do, went straight to the bookstore. I was smart enough to set a budget for the trip, and this picture represents my struggles over what to put back on the shelf: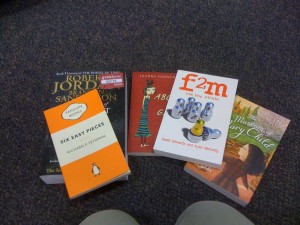 I abandoned the Robert Jordan in favour of Cassandra Golds' The Museum of Mary Child, and having read the latter, I cannot in the least regret the sacrifice. Certain to turn up in my next review session!
Speaking of books! This is a lady in the train station who consented to me photographing her thoughtful perusal of Leanne Hall's This Is Shyness, one of my favourite books of the year. I do so love to see people reading books I love: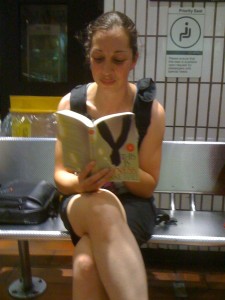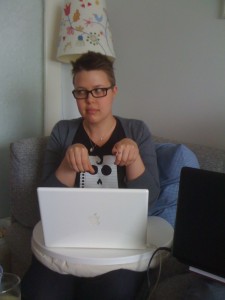 This is my friend Hope, at our first shame in. She has the haircut, it was decided, of a hipster T-rex.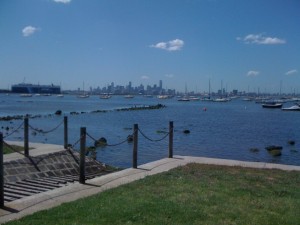 This view is five minutes walk from my house. Oh yes, you all envious.
And these are black swans, also five minutes from my house. They did not wish to pose in the light; I had to take six pictures to get anything to come out: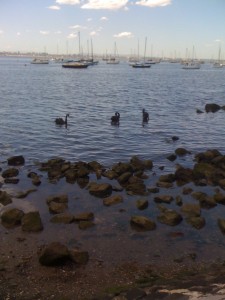 I think I like showing you my Life in Pictures, internets! Perhaps I shall acquire the Hipstamatic app to make said pictures prettier.
* LIES.