Hi, Internets! How have you been?
I have been working on a Secret Project!
You see, I am going to train to be an English teacher in Christchurch next year. This is awesome! I also have to pay for it, and live on something while I train, which is less awesome.
The course fees, and some of the living costs are covered by a government student loan (sigh), but it turns out living in a city that is reconstructing after a massive earthquake is pretty damn expensive. My rent is fortunately relatively low, but my food, power, and transport costs promise to be somewhat horrendous. I do have savings, and a credit card, and an eventual advance eventually coming at some point unknown (oh, publishing). I will certainly survive, but circumstances may be a little grim for a while.
Hence, Secret Project!
Internets, remember my Teen Movie Times essays from earlier in the year? I have put them in an ebook!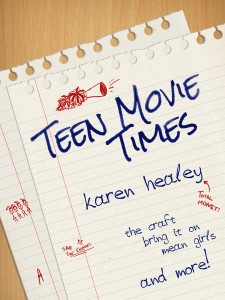 The essays in Teen Movie Times have been revised and updated, with introductions, and the elimination of irritating typos, and all that kind of thing. Also, I have written new content, including a full essay on everyone's favorite "Wiccan" movie, The Craft! This essay is exclusive to ebook readers.
The Table of Contents:
Foreword
Chapter 1 – Clueless
Chapter 2 – Bring It On
The Five Most Obvious Things The Movies Get Wrong About American Teen Life
Chapter 3 – Saved!
Chapter 4 – But I'm a Cheerleader
The Five Best Teen Movies That Take Place Somewhere Other Than the USA
Chapter 5 – Empire Records
Chapter 6 – The Craft
Chapter 7 – Mean Girls
The Five Best Movies Featuring Amanda Bynes (I Love Her Face)
Chapter 8 – Easy A
Chapter 9 – Romancing the Sro
Internets, you can have this sterling piece of pop culture criticism for the low low price of 1.99 USD, in almost any format your heart could desire, from the excellent people at Smashwords.
I know this is a time when many worthy causes appeal for help, and many people are watching their budgets like horrified hawks. But if you can spare the cash, and you like my writing, I would really appreciate it if you would buy this book. It's good, I promise.
Signal boosting for the book is also much appreciated!
In preemptive gratitude, Internets, and also as a holiday treat for those who cannot afford the book, but shouldn't miss out on all the new material either, I will shortly be publishing my other new full essay, on my favorite teen movie of the decade, Easy A.
Enjoy the book, internets! If you have half as much fun reading it as I did working on it, your experience should be value for money.