Internets! Some housekeeping/update notes for you.
While I settled into my first week of teacher training, When We Wake came out in Australia and New Zealand!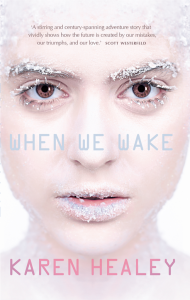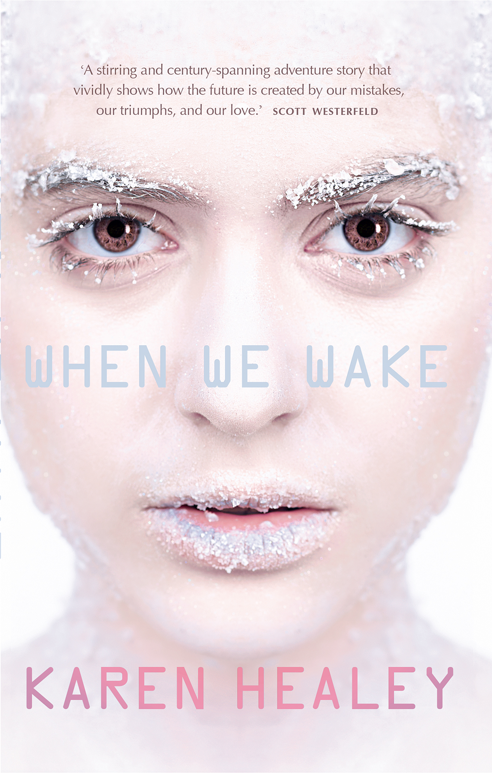 In all good bookshops and on all good bookshelves now.
People have been very kindly tweeting me (@kehealey) about how the book is making them cry. EXCELLENT. Please continue. Your tears give me strength.
My website needed revamping for this momentous occasion. The excellent Melanie Reese adapted an Elegant Themes design for KarenHealey.com, so now everything looks very clean and futuristic, which is just right for this book! I threw up some bonus content – you can find it at the When We Wake page.
In OTHER exciting news, When We Wake has garnered some great reviews from trade publications, including something I have coveted for a while now, which is a STARRED REVIEW from Kirkus Reviews.
Some extracts:
STARRED REVIEW:"Accessible, thoughtful and compelling — science fiction done right." – Kirkus Reviews

"[A] taut drama set in an unnervingly realistic future world. Tegan is a compelling and believable narrator, and her story is full of moral complexities that are as suspenseful and dramatic as they are topical and relevant." – Bookseller + Publisher

"[A] very persuasive future world … smartly extrapolated from contemporary society. The story's injustices unfold in a way that's stark and unvarnished." – Publishers Weekly
Thank you, reviewers, you make me very happy. I know that's not your goal, nor should it be your purpose, but I find it an excellent byproduct.
I wrote a guest post for Behind A Million And One Pages on the cryonics of When We Wake and my most unscientific thought processes as I worked on the idea. My brand new copy of Briar Rose has arrived, so I can crack on to my next Sleeping Beauty essay, hopefully this weekend. Oh, Sunday, how you are rapidly filling up your to-do list already.
And, finally, I saw the first cut of the When We Wake US book trailer today. It is stunning; creepy and beautiful and made me want to sit down and read the book again. After writing and revising and reading and rereading my books umpteen times, this is not a reaction I usually have. I think we can safely say the trailer is effective. I will let you know where to find it as soon as I can!