I could always tell who among my first readers loved detective novels, because they would say, "Karen! Your manuscript includes a place called the Ngaio Marsh Theatre! Is that for reals? Is it named after the real Ngaio Marsh?"
It is! The Ngaio Marsh Theatre was one of the theatres of the University of Canterbury, located in the Student Association building. It was the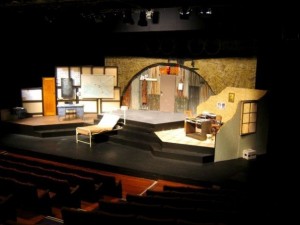 traditional home of the University of Canterbury Drama Society.
I say was, because sadly, the February 2011Canterbury earthquake really knocked the Ngaio Marsh Theatre around. Many of the places mentioned in Guardian of the Dead don't actually exist any more. The theatre is currently closed until further notice.
I practically lived there for five years, to the detriment of my attendance at actual classes. (I was actually at Canterbury for five and a half years, but I had to buckle down for the last six months of my M.A., tragically abandoning my involvement with an awesome production of The Tempest.) It is consequently one of my best-loved places in the entire world, although some of my fondness might be because I was chronically sleep-deprived and overcaffienated during every show. If you think that the theatre scenes in Guardian might be partially based upon those experiences, then you are exactly right, although I hasten to point out that no one in the book is based upon anyone in the real world.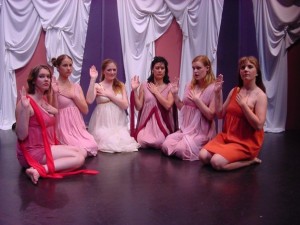 My very favourite production was Lysistrata, a cheerfully obscene peace-mongering play over two thousand years old that includes the immortal line, "I will not assume the position of the lion-on-the-cheesegrater." The co-director and I threw the show together in six weeks over the summer holidays, from concept to casting to opening night. It was all a frantic effort in the face of chaos, and it should not have worked. But it did! Because that is how we roll in Dramasoc!
Which owes much, like the theatre itself, to Dame Ngaio Marsh.
Edith Ngaio Marsh was born in Canterbury at some point prior to 1900, which was when her father got around to registering the birth. She died in 1982, the year after I was born. In between, she was a foundation student at St Margaret's College, a painter, an actress, a shopowner, a writer of 32 detective novels, a playwright, a Shakespearean director, and a driving force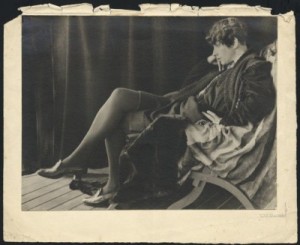 in the establishment and progress of professional theatre in New Zealand. She directed the first play in the new Canterbury University theatre in 1943; a production of Hamlet in contemporary army uniforms (which was extremely daring and almost got the show shut down).
What's more, she managed to do most of this while dividing her time between London and Christchurch, which makes me speechless with admiration. I can barely divide my time between my desk and the couch.
She was made a Dame Commander of the British Empire in 1966, an award entirely deserved. And she got a theatre named after her, which I would myself prefer.
– – – –
More on Dame Ngaio:
A lengthy biographic article found at my secret boyfriend, the New Zealand Electronic Text Centre.
A shorter biographic article from the Dictionary of New Zealand Biography, with bonus radio footage of Dame Ngaio explaining how she became a writer.
[protected]