Tentacles EVERYWHERE, internets!
One. The fabulous author/teen lit blogger Steph Bowe does a lovely, spoiler-free review of Guardian of the Dead, with an interview from me.
Teaser:
The part furthest from my experience were the fight scenes, since I can barely throw a punch. Naturally, I decided the narrator would have a black belt in Tae Kwon Do. Good going, me! Fortunately, my best friend runs a martial arts school and she painstakingly explained how to break a wrist grip and perform a perfect side kick.
Two. I take part in the Australian Spec-Fic Snapshot event, where many many Australian (or in my case, Antipodean) authors are asked five quick questions. My interview is hosted by the lovely Tansy.
Teaser:
My second book, currently called SUMMERTON, has sold to Allen and Unwin and Little, Brown. It's again set in New Zealand, this time in a small, far-too-perfect, West Coast town where three teenagers try to find the real reasons behind their older brothers' apparent suicides.
My interview is of course the MOST awesome, except for all the others – I really recommend you check this bunch out and get a look at how many Australian writers are tearing up the field. Last year they had 83.
Three. The incredible and slightly fearsome Justine Larbalestier is running a month of guest posts on her blog, all of which are brilliant. Lili Wilkinson on teenage sex, my fantastic editor Alvina Ling on editing, Randa Abdel-Fattah on writing and identity, Zetta Elliot on race and reviews, Ah Yuan on the importance of diversity – man, I am only scratching the surface. Just go and read them all.
And I wrote about being a neurotic mess waiting for my novel to debut. Because that is how I currently roll. Teaser:
Waiting is far from the worst thing in the world, but I cannot stand it. I am prone to jumping off trams in heavy traffic, though even a momentarily stalled tram will get me to my destination faster, because I long for the illusion of moving, going somewhere, getting closer.
ME: I love that you stuck the whinging tag on this!
JUSTINE: I can remove that if you like?
ME: No! I genuinely love it! Totally justified!
FOUR: The American version of my book has been PRINTED. It has been SEEN IN THE WILD. The wild of the Little, Brown offices.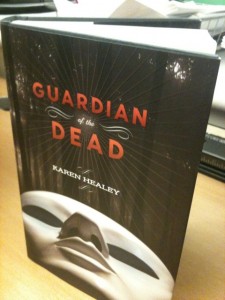 It has pages and everything!
Internets, I am off to bed. Being an octopus is exhausting. I hope you have a fabulous next time period!