Lost in Translation: New Zealand Stories, ed. Marco Sonzogni.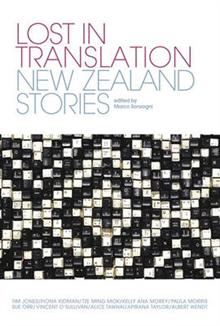 BOOK: Karen, you should buy me.
ME: Well, you certainly have an eyecatching and thought-provoking cover*! But I don't know, book, I don't enjoy very much adult literary fiction.
BOOK: I have a story by Tze Ming Mok.
ME: SOLD.
Tze Ming Mok wrote the blog Yellow Peril at Public Address for several years, which remains one of my favourite blogs ever, and I really did buy this book for the sake of whatever she should choose to write about. AS IT TURNED OUT she wrote about teenagers! Bonus, me! "No Shadow Kick" is a sweet and uncomfortable retrospective, exploring the cultural collision between a newly emigrated Chinese girl and a Māori boy on their first date, with an ending I won't spoil but thought was super awesome.
But there are a number of really great stories, and only one I skimmed, bored out of my tiny brain, which is pretty darn good for a lit fic collection. Some personal highlights: In "Ancestry", Albert Wendt writes about a Samoan grandfather on Anzac Day, considering the multiple cultures of his grandson – it's very quiet and domestic with all these tricky undercurrents on culture and reparation. In "The Master Plan", Charlotte Grimshaw writes an awesome piece about a woman with a larcenous best friend who reviews a book less favourably than the author would have liked, and he emails to tell her so. In "A Rock in Bondi", Briar Grace-Smith writes a taut, poignant story about an agoraphobic artist trying to leave Porirua to visit his sister in Australia, which struck uncomfortably close to home in a couple of places, and is just beautifully constructed.
The one that left me clutching my stomach while my mother demanded to know what I was laughing about was Paula Morris' "Premises", where a bunch of movie execs have a woman write ever-revised versions of a novel synopsis that can be made into a movie and make them all a million dollars and I cannot say anything about it except that if you are an Austen fan you HAVE to read it.
AND IN FACT YOU CAN! "Premises" is up here, at the New Zealand Herald. Go clicky.
And if you like that, buy Lost In Translation. I loved it, and I'm not a big lit fic fan, so I imagine that those of you who are would be enthralled.
* Patikitiki I and II, Gina Matchitt, from E Kare You're So Colonised, interesting because the design calls to mind the shapes found in traditional taniko design, but it's been "woven" out of computer keys with English on 'em. Thinky!