Last year I did a little something called the 48 Hour Book Challenge, where I read 15 YA books in – yes! – 48 hours, and wrote brief reviews of them as I went, and collapsed into a wrecked pile of wreckage at the end.
It looked like this: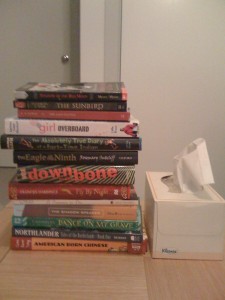 It was awesome.
But the most awesome part was that, thanks to sponsors and donators, we raised over a thousand dollars for the Alannah and Madeline Foundation.
The Alannah and Madeline Foundation is an organisation founded by a father whose two daughters and their mother were brutally murdered. The foundation is dedicated to helping children who have suffered from or witnessed violence – often in their homes and schools, where they should be safest. Their efforts include the Refuge Therapeutic Support Program, and the National Centre Against Bullying.
It will little surprise you, internets, that I'm going to be doing the challenge again this year, from May 14 – May 16, and YOU get to decide what it is I read. It works like this:
1) You pledge either a flat donation, or sponsor an amount per book – this can be any amount. Seriously, $1 a book is money they can use.
2) You then have the option of recommending a book for me to read and report on. Any hardcopy young adult book currently in print is allowed. Recommendations for books by PoC or authors from other underrepresented groups are especially smiled upon. First come, first served!
3) I make a good faith effort to acquire the books. If I can't find yours, I'll give you the option of another request.
4) From whatever time I get up on May 14 until 48 hours later, I read and review like unto the wind. A sedentary, diet coke popping wind!
5) You either make your donation directly, or I can collect it via paypal on your behalf and send in a lump sum.
Sound good? Sound worthy? Want to make me read your favourite works and tell you all my increasingly-crazed thoughts? Then hit the comments at my livejournal! They are screened; no one will know how much you are pledging but me and you.
Oh, and should you have no money to spare, which is completely normal, but still want to help, then I recommend signal-boosting this post. Link, tweet, and facebook away.