Yesterday I celebrated the cute American holiday of Independence Day, which takes place every July 4th.
Robyn and Jimmy don't have an American flag at home, because they are unpatriotic!
So I grew one in a jar.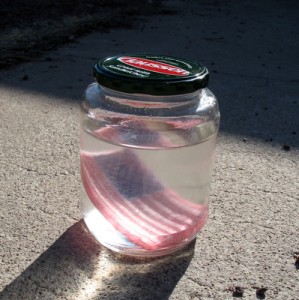 I realise that most of my readers will be entirely ignorant of this holiday, which receives little world-wide press compared to more dramatic July events like St Ulrich's day or Umi no Hi, so I have done some research and will now present:
The True Story of Independence Day
A long time ago, the American demi-god George Washington saw that his people were oppressed because instead of being able to keep all the profit from lands they had illegally acquired, they had to pay tax without representation to the Englishmen across the sea! Or it might have been Irishmen. It must be Irish because Americans remember their defeat every March 17 by wearing green (which represents the envy the Irish felt for the land of the free) and drinking until they fall down to simulate the collapse of the Irish forces.
Actually, I think English and Irish are different names for the same thing. Those wacky UKians!
So George Washington hung on a tree for nine days and nine nights and gave up the ability to tell a lie. He therefore gained the ability to give strength to others! So he endowed Bruce Willis with the power of ten men, and he became Yippee Ki Yay, who protects the lands of America from English terrorists with German accents. Then he endowed Will Smith with the power of ten hundred men and he became the Fresh Prince, who protects the skies of America from Irish leprechauns with tentacles. Then he endowed Paris Hilton with the power of ten thousand men, and she became Celebutante, who protects the oceans of America from BP.
It's okay to say "men" when I mean "people" because this was Olden Times.
Anyway, on the seventh day of the war, the English or Irish god George the Third met George Washington in primal battle! George the Third plundered the seas, ravaged the coasts, burnt the towns and destroyed the lives of people with his laser vision, but at the start of the third act Jeff Goldblum came up with the solution! And Paris Hilton let loose her armies of small yappy dogs and Will Smith punched out the Redcoats, and Bruce Willis pressed the button at the very last second and the asteroid flew off course and hit George the Third so hard that he went mad!
That day, my friends, was July 4th, and Americans remember it by making fireworks that look like bits of mothership entering the atmosphere.
I hope you have found my discussion of this quaint, but moving, tradition educational!