Those of you attending the Melbourne Writers' Festival or Worldcon 2010 might be interested in the events listings that will follow.
The rest of you can admire this picture of my brand new hairstyle.
I got it cut after I watched Scott Pilgrim vs The World.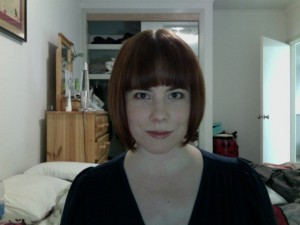 I know, right? I can barely wait to see what it looks like with my natural curls.
Melbourne Writer's Festival
Thursday Sep 2, 12:30-1.15, ACMI 2
I am speaking with veteran and FABULOUS YA writer, Carole Wilkinson, on "The Lure of Ancient Magic".
Then I am toddling on over to:
The 68th World Science Fiction Convention
This promises to be ludicrously awesome.
Sat 1100, Rm 211: Capes and Skirts: the Plight of Female Superheroes.
As you know, internets, I have much to say on this topic.
With Tansy Rayner Roberts, Peter V. Brett and Seanan McGuire.
Sat 1200, Rm 207: Karen Healey and Russell B. Farr, READING READING READING
I am going to read to you from SUMMERTON, my New Zealand set YA urban fantasy coming out next September. It has some murders in it. You know I like those!
Sat 1500 Rm 210: Crisis of Finite Publishers
Is it possible that this cultural artefact of the 20th century doesn't have a future any more? With a shrinking market come increased difficulty in creating and launching new characters and fresh titles: what are the best new superhero comics of recent years, and how did they succeed or fail?
With Alan Baxter, Paul Cornell and James Bacon.
Sun 1500 Rm 210: The (Haunted) Streets of our Town: YA Urban Fantasy
An exploration of the attractions of Urban Fantasy for YA readers.
With Seanan McGuire, Faye Ringel and Foz Meadows.
The question, internets, is whether I am stalking Seanan, or if she is stalking me.
Mon 1000 Rm219: Writing Strange Lands: Other Cultures in YA Speculative Fiction
This panel will discuss the impact of dominant cultures in writing YA Speculative Fiction.
With Gillian Polack and Helen Lowe.
When I am not in panels, I am likely to be 1) in the hallways 2) at parties 3) in the bar. If you see me, feel free to say hi!