Words, words, words. They're all we have to go on.
Unfortunately, I have to save all my words for the current binge on my dissertation. Here are some pictures instead, from a day at home and wandering through my city.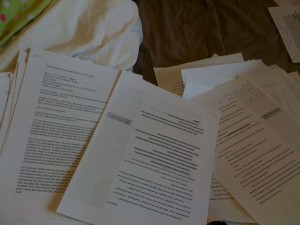 Printing articles from Transformative Works and Cultures for dissertation notetaking – on the back of The Shattering edits. My whole life is genre-mixing.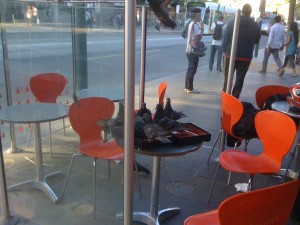 Pigeons gather on a table outside a sushi place on Swanston St. I like obento too, pigeons.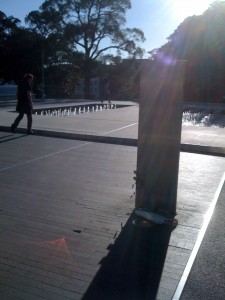 Flowers drying in front of the memorial to the Australian victims of the October 12 Bali nightclub bombings. There's a sign forbidding skateboarding in the park, but the skateboarders naturally ignore it. I like to see them, full of life and motion.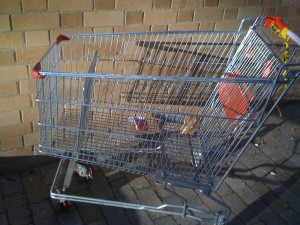 This shopping trolley escaped its wearisome life at Safeway to the freedom of Melbourne University, where it is happy to indulge the nefarious deeds of drunken students.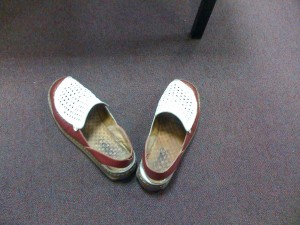 The Baillieu library is sort of disappointing compared to Canterbury's uni's eleven floors, but the bottom level has very comfortable couches for reading a ton of articles at once, and no one seems to mind when I slip my shoes off.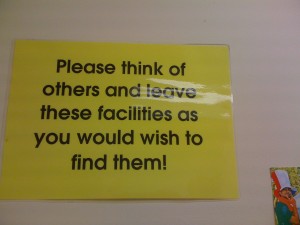 Despite this cheery sign, the library bathrooms are universally disgusting by about 7pm. The graffiti is pretty interesting, though.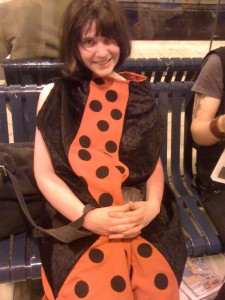 Flinders Street Station is a great place for people watching. This young lady happily consented to me taking this picture of her fabulous dress and gave permission for me to put it online. "I'm so sunburned," she confided, and showed me her reddening arms.