What up, internets?
Oh, I know, I have neglected you shamefully. I have taken so much, but not given. How ungrateful I am.
Karen, what have you been doing, you ask, your eyes full of reproachment?
Oh, the usual. Dancing. Drinking martinis. Looking cute: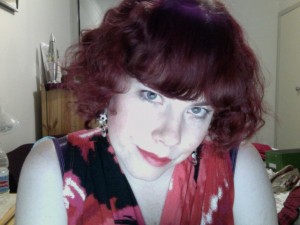 It is well and truly social season in Melbourne, where everyone I know emails each other and swears that we MUST catch up, really we MUST. On Tuesday I attended the Allen and Unwin end of year party, which, it has to be said, is pretty much the gold standard for Karen socialisation. Smart, creative people talking about books and publishing and how much we adore The Vampire Diaries for hours and hours? Yes, please!
(If I were to be strictly truthful*, I would have to admit that this last might have been mostly me. I adore TVD. More Elena! More Katherine! More Bonnie! More Liz! Stefan and Damon, fine, they are nice, but mostly I am into the MANY FINE AND AWESOME LADIES, my absolute favourite being Caroline. Caroline/Tyler, do you ship it? I ship it SO HARD.)
Anyway, I went to the party, I proposed to Kate Constable in Latin (cunningly hiding my proposal in a discussion of Dorothy L. Sayers), I wore a darling sundress, all was well!
I smugged about this to my friend , who lives in Canada, and is currently buried under layers of snow and ice. Then hubris smacked me over the head, thunderstorms descended on Melbourne, and I was stranded at the train station this afternoon.
But really. Decembers ought to be warm and light. There ought to be sun and barbecues and swimming and squinting balefully at the light edging one's curtains at five am. None of this winter nonsense!
So when my fabulous fellow author proposed the December Lights project, a collection of stories very squarely aimed at cheering up northern Northern Hemisphere dwellers, I naturally jumped on board.
Once again, I landed in terrific company. Contributors include Leah Cypess, Sherwood Smith, Jaclyn Dolamore, Sarah Prineas, and Jenn Reese, so you know we're talking about a great time. No one's making any money off this – these stories are our gift to you.
Do check out the December Lights project! Stories will be released every couple of days during December. All the stories are fun, PG-rated loveliness. I submitted "Queen of the Kitchen", which y'all might recall from last year, and I've been delightedly reading the stories as they come out.
Now, I have to climb into another darling sundress and do something with my hair. Another social engagement, you know. When will the dizzy whirl stop, internets?
You know I hate so to leave you.
* As if.