Internets, this afternoon I went to the gym and pushed too hard – damned endorphins – and am currently suffering a NAP ATTACK. I am going to have to fall on my face for an hour, or I will never get anything done tonight.
But! In the interests of your delight, and my crossing something off my To-Do list, would you like to see the Australian/New Zealand The Shattering cover?
You know, I thought you might.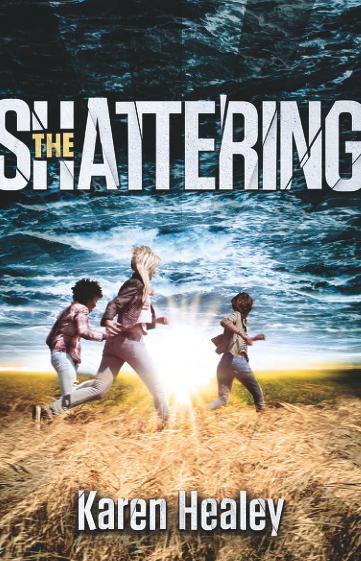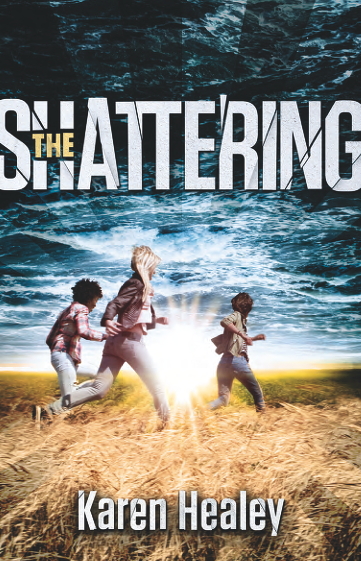 [Image transcript at bottom of post.]
Lovely Editor S. emailed the draft to me from the House of Onion a couple of weeks ago and I stared at it in frozen awe for a second. Then I picked up the phone.
Normally I email my editors, but I have Editor S's cellphone number, in case of emergency, such as thinking it would be a great idea for us to have a cocktail.
Editor S: *wary concern* Helloooo?
Me: I. LOVE. IT.
Oh, I love it so much. I love the fonts. I love the way the setting evokes both the brightness and menace of the book in the dying grass, and that sun, whose rays are breaking up the pictures solidity – and after all, is it setting or rising? I love the fantastic illusion of the sky, which is actually the ocean. Things are not what they seem!
And I love, love, LOVE the body language of the three protagonists. It's wonderful. There's Sione, cautious and loyal, following the girls and ready to support them. There's Janna, floating in long, lovely strides, taking up all the space in the world, demanding that you look at her. And there's Keri, racing out in front to meet the danger, athletic and determined and fast.
Oh, Designer B. You are a scholar and a gentleman and an artiste of stunning delight.
I wish to also convey my thanks to the Australia Council for the Arts, who awarded Allen and Unwin a grant for the purposes of developing and promoting me as a mid-career writer (hurrah!) which I am told is going to include some sort of fancy detailing for the cover (double hurrah!). Embossing, perhaps! I do adore a good emboss.
A young adult supernatural adventure, THE SHATTERING will be available in July 2011 from Allen and Unwin (Australia/New Zealand) and September 2011 from Little, Brown (USA).
[Image transcript: Three teenagers, a boy with black hair and medium-brown skin, a girl with blonde hair and pale skin, and a girl with light-brown skin and dark-brown hair, all dressed in jeans and casual tops, are running over a field of dying grass, their faces turned slightly away from the camera. They are partially silhouetted against the sun on the horizon, either rising or setting. What looks at first glance like a dark blue sky with clouds in the top third of the composition is actually an ocean with white wave patterns.]