I am a very pale person, and I live in Australia.
Granted, I don't live in one of the places in Australia where people actually live underground because the surface is so ridiculously hot, but in summer I layer sunscreen over my moisturiser-with-sunscreen-in-it, and try to avoid going outside between 11 in the morning and 3 in the afternoon. Because if I don't, I very swiftly look like crispy bacon.
Crispy bacon skin hurts, y'all. Also, I have plans for my life that melanoma might delay or halt.
The other day, my delightful friend Mary had a delightful birthday party picnic, and I attended, suitably sunscreened up. But we were outside for some time, and sunscreen sweats off, and despite my best efforts, my arms still got crispy fried.
This picture represents my last, desperate move, which was to steal Mary's parasol and twirl it becomingly.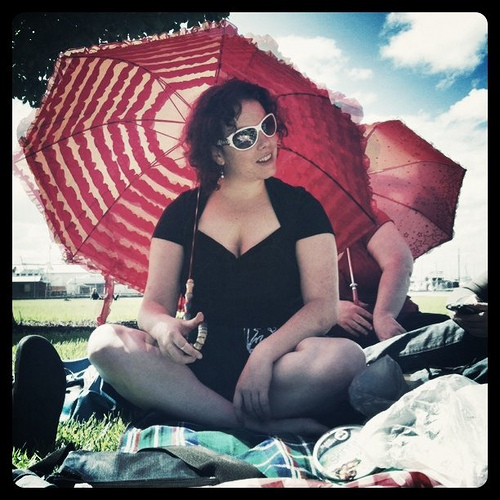 [Image transcript below]
The friend who took the picture sent it to me, and then, operating on the principle that if I were in pain, others should suffer also, I may or may not have emailed it to some North American friends currently trudging through Snowmageddon 2011.
BFF ROBYN: You're such a nice girl.
ME: I know, right?
I am fondly reminded of the time I sent another friend an email that contained only the chorus of Willow Smith's greatest hit. That time was ten seconds ago.
GOOD MORNING,
miggy!
[Image transcript: A white girl with freckles (your humble author) wearing a black top, black and white skirt and white sunglasses sits barefoot and cross legged on a picnic rug, the world's most adorable red parasol with ruffles poised on her shoulder, under a blue, cloud-spotted sky.]