I think awards are very nice! I would like to win one! And I was pleased and honoured to be on the Australian Shadows Awards Long Fiction short list. But since I think of Guardian of the Dead as more urban fantasy than horror*, I was fairly sure it wasn't going anywhere near the trophy on this one.
On mentioning this to my agent, he told me to have more confidence in myself.
I told him that I had plenty of confidence in myself! I just didn't think the book had much of a chance.
"But how can you be sure?" he asked me.
And then I fatally said:
"Barry, I bet I won't win. In fact, if I do, I will dress up like the trophy."
You see, the Australian Shadows Awards do not go for geometric shapes or a simple plaque, or even the Hugo Award's hilariously phallic silver rocket.
They go for full-on, full-figured dark fantasy lady awesome. Check these out: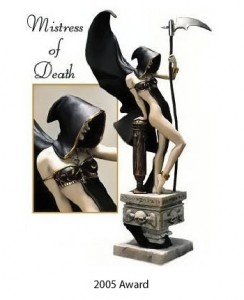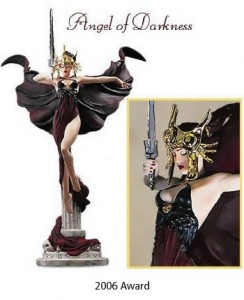 While I do not know what this year's trophy looks like, I dearly hope it also features a lady with a sharp object, and maybe some black wings of DESTRUCTION.
About a week before the awards were to be announced I bumped into my lovely Publisher E at the House of Onion. It seems that Agent Barry had told everyone at the Children's Book Festival at Bologna that I might possibly be wearing several strips of fabric and brandishing a scythe, thus ensuring I COULD NOT BACK OUT.
I ask you, is this good agently behaviour? Surely his mission is to ameliorate my foolishness!
Fortunately, the honour went to Bob Franklin, for his short story collection Under Stones. I am certain he made no such foolish bets.
Congratulations, Bob! And thank you very much.
* Although other people think differently, and I am totally cool with that! But although I know it exists, I have a blind spot to the book's horror appeal. I have hypothesised that it's because I knew what was going to happen to the characters. For me, it lacks the suspense that I think is essential to a really good scare**.
** Good scares: I've just finished Dia Reeves' splendidly gory Bleeding Violet and Dan Poblocki's The Nightmarys, which I couldn't read after dark because it freaked me out so much. Recommended!