Mmm, bakery. I love baking. I like weird things. I like doing weird things with baking. But after the delicious mess that was Dead Dinosaur Trifle earlier this year, I feared that I wouldn't be able to top myself for the Creepy Cake N Bake-a-thon, where authors bake things in a TERRIFYING manner.
So I went simple, and, in keeping with the theme, I went dark.
This recipe is not suitable for vegans, people with coeliac disease, or people with tree-nut allergies (although you can probably substitute the heck out of things at will). All photos illustrate the text without any additional information, and I will get to image transcripts soonish. Oh, and all measurements are in metric, because WHATEVER, AMERICA.
Dark Chocolate Teacup Puddings.
Set the oven to 180 degrees Celsius.
Assemble your ingredients! You'll need dark chocolate, of at least 70% cocoa content (not pictured), milk, unsalted butter, cocoa, flour, nuts (hazelnuts, almonds and walnuts all work well; I'd love to try macadamias), caster sugar, brown sugar, and an egg.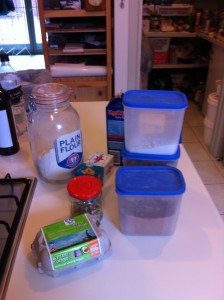 You will also need a bowl, a wooden spoon, a small saucepan, measuring cups, scales, a baking tray, and six teacups.
Set the teacups on a baking tray. Break 100 g of chocolate into little bits, and divide them among the six teacups.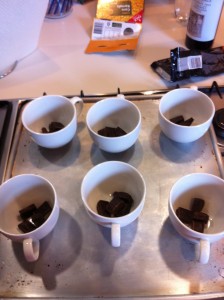 Break up 40 g of chocolate and put it in a small saucepan. Add 1/4 cup of milk (60 ml), 50 g unsalted butter, and one heaped tablespoon of cocoa. Heat over low heat, sitting constantly, until it's almost all melted together. Remove from heat, stir in the last lumps.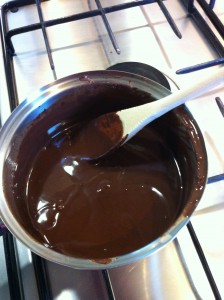 NOTE: I am not kidding about stirring constantly. Burnt chocolate is horrifying. If you're nervous, you can do this with the double boiler method (simmer some water in the bottom of a saucepan, rest a bowl on top [without touching the water], and stir until it melts). I've had practice, and I'm not very patient, so I do it the other way.
Pound up your nuts. This part is fun! Although more fun if your pestle isn't broken.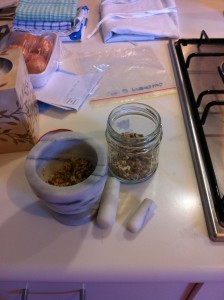 If you don't have a mortar and pestle, you can also do this by wrapping up your nuts and pounding them with a heavy object, like a rolling pin or a hammer or your copy of Breaking Dawn. You want them pretty fine.
If you're in a hurry and you remember when you do the shopping (I never do), you can also buy pre-pounded nuts.
Measure out a 1/4 cup (60 ml) of nuts and dump into a small bowl. Add 1/2 cup (125 ml) flour, 2/3 cup (160 ml) caster sugar and 1/3 cup (80 ml) brown sugar.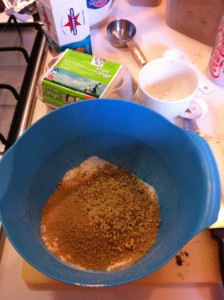 Beat an egg with a fork in a cup. (Also fun. Baking probably relieves a lot of my violent tendencies.)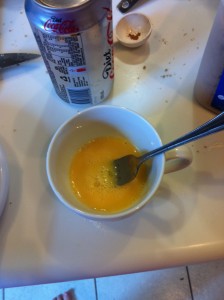 Pour the egg and the melted chocolate mixture into the dry ingredients. (We're mixing up the chocolate first so it has a chance to cool. Don't pour hot anything into raw egg unless you want it to stop being raw real fast.) Mix it up real nice and evenly distribute into your teacups.
Bake for 20-25 minutes. This is a good amount of baking time – long enough for you to do the dishes and wipe spilt chocolate mixture off the bench, and not long enough for you to clean up, get bored, go upstairs and start playing World of Warcraft, and remember ninety minutes later, when you smell something funny, that maybe you should have been paying attention to the cake you put in the oven.
This is a hypothetical situation that has never happened to anyone I know.
The edges should be setting while the centre stays dark – this is pudding, not cake. You want it gooey in the middle.
Let the baked puddings sit for 5 minutes. If you have homemade raspberry sauce in the freezer, this is a good time to thaw it!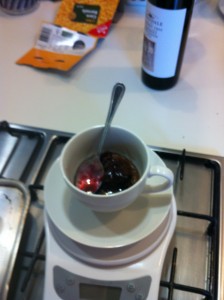 Set a teacup on a saucer, scoop out a divot of delicious melty pudding with a teaspoon, and pour whatever you like into the gap. I would recommend against chocolate sauce because the chocolate at the bottom has already turned into a delicious sauce, JUST LIKE MAGIC.
But you can add cream. Or ice cream. Or raspberry sauce! Looks like blood, and is also delicious. I don't get why people are all about raspberries and white chocolate when raspberries and dark chocolate are the clearly superior taste combination.
Enjoy your delicious dark treat, creepy bakers!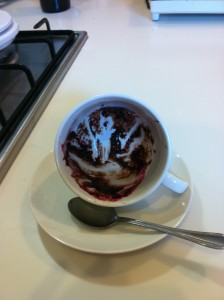 The Creepy Cake N Bake-a-Thon is ON! Vote for your favorite entry by commenting below. You can comment on EVERY Cake N Bake post, one entry per post, for a chance to win a $20 gift certificate from Barnes and Noble or an official Creepy Cake N Bake doll! Please include your email in order to be entered to win.
Trophies will be awarded on Halloween for the top creeptastic creations. Winners will be chosen by our special Celebrity Judge, Adam Rex, author of such deliciously creepy creations such as FAT VAMPIRE, FRANKENSTEIN TAKES THE CAKE, FRANKENSTEIN MAKES A SANDWICH, and PSSST!
Check the list of contestants and their post dates so you don't miss any of the fun:
Mon Oct. 3 – Saundra Mitchell
Wed Oct 5 – Stacey Jay
Friday Oct 7 – Erin Dionne
Saturday Oct 8 – Sydney Salter
Mon Oct 10 – Brenna Yovanoff
Wed Oct 12 – Tara Hudson
Friday Oct 14 – Karen Healey
Saturday Oct 15 – Robin Bridges
Mon Oct 17 – Michelle Zink
Wed Oct 19 – Julia Karr
Friday Oct 21 – Victoria Schwab
Saturday Oct 22 – C.Lee McKenzie
Sunday Oct 23 – E. Kristin Anderson
Mon Oct 24 – Natalie Zaman
Wed Oct 26 – Stephanie Burgis
Friday Oct 28 – Dawn Metcalf