Three things, internets!
1: When We Wake First pass pages: SUCCESS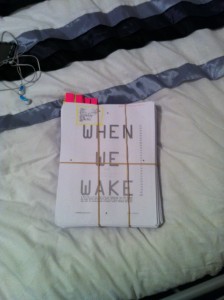 [Transcript: A pile of printer paper bound with heavy duty rubber bands, many post-it flags indicating changes in the top left corner. The top page reads WHEN WE WAKE in a delightfully futuristic typeface]
Typically nervewracking work, because what if you don't like the book anymore? Turns out I do, excellent, send it off on Monday.
2: First ever creme brulee: MOSTLY SUCCESS.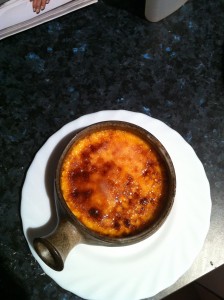 [Transcript: A creme brulee in a grey terracotta soup bowl, looking mighty fine if I do say so myself.]
Me: Where are those ramekins you said you had?
Mum: Oh, hmmm, let's see, how about these?
Me: Those aren't ramekins.
Mum: They'll be fine!
Me: They're soup bowls, they're too big. The custard won't set.
Mum: How about these two mismatched containers that are different sizes and made out of different materials?
Me: I will take the soup bowls.
They didn't set. But the resulting thick custard was very nice!
3: Would you like me to critique your short story or novel synopsis plus first chapter? You can have that happen! You just have to promise the most money in the Alpha SF/F/H Workshop for Young Writers auction.
It's probably worth noting that, if we are not good buds – and even then I regularly have to prioritise other things – charity auction bids are pretty much the only way I critique others' work, so this is a rare opportunity.
My item is here, but there is plenty of other super neat stuff up for grabs, and all the money goes to financially underprivileged young writers to assist with attending the workshop. A most worthy cause!