What up, Internets?
30% off kids' clothing at the start of spring is kind of a big deal in Retail Job, so we were super busy today until the sudden lull where we weren't.
Neither of these is my favorite working condition, but hey, no problem, I survived, and tomorrow and Saturday I get to play with my imaginary friends again. Oh, revising, I love you so much more than first drafting; let's get married.
Hey so also I have been doing the 31 Day Nail Art Challenge. That's when I do 31 manicures in 31 days, according to this schedule of "inspirations". (Except "Tribal Print" because gross. That's going to be "Ombre", because I wanna try that, and not gross.)
My additional, personal rules, are "first attempt stands; no second tries", and "any polish you don't use in this challenge has to go, jeez, Karen, you really want that two dollar gluggy pink that still needs four coats to stop streaking?"
With that in mind, the first five days.
RED: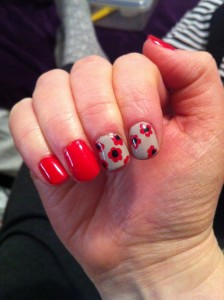 ORANGE
(I baked some apple-maple-spice muffins right after this picture. Totally destroyed the manicure. Worth it.)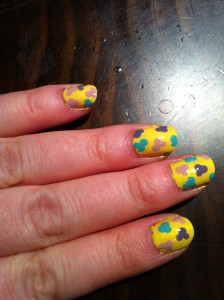 GREEN: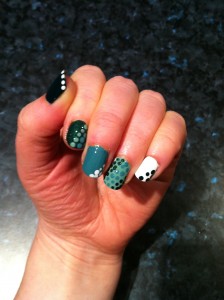 BLUE: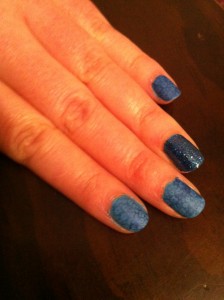 Tomorrow is "Violet". I have a new polish to play with. It's gonna be fun!
But not quite as much fun as sharpening up Cheerbaby Goes To State. Mmmmm, revision.