My dad loved a nice piece of fish.
Pan-fried, or in the microwave for a minute, with lemon, garlic salt, and pepper. Mash some spuds, poach an egg, steam broccoli and carrots into limp oblivion, grind more salt over everything, and eat with joy. If he was going to buy fish at a restaurant, it had better be beer-battered with chips, or else pan-fried to his exacting standards. A second over the ideal cooking time would produce voluble scorn.
One of the enduring memories of my parents visiting me while I taught English in Japan is Dad walking with us through the wide streets of Hiroshima, complaining with increasing volume that all he wanted was a nice piece of fish, why didn't any of these restaurants serve a nice piece of fish, it was all NOODLES and SOUP and RICE.
Me, pointing at an array of plastic sashimi dishes, arranged enticingly in a window: "Everything in that restaurant is FISH!"
He wasn't convinced. We found a place that served steak.
I, also, love fish, but unlike my father, I am not confident in cooking it. I'll eat smoked salmon on cream cheese toast for breakfast, or snack on sushi, or order fish and chips, and when I lived in Japan I bought both sashimi and cooked fish from the supermarket two or three times a week, but I can't remember the last time I bought raw fish for the purpose of cooking it.
I might never actually have done that!
I've definitely contemplated it a few times, but I've always come up with a better plan at the last minute, one where I didn't have to talk to a stranger and ask questions that revealed my ignorance about which fish was actually meant by a recipe's direction for "any firm-fleshed white fish". Like, how could I tell if it were firm without having to awkwardly make eye contact with someone? I didn't think they would let me poke it.
Also, every recipe said things like "Cook until done (be careful not to overcook)", which was profoundly helpful.

Monday's recipe: Pan-fried fish with Sesame Rice and Miso-Dressed Salad.

Okay, so we're doing this.
I got home late and starving, having stayed at work so that I could prepare an elaborate and risky lesson for a formal observation the next day, because what's life without a little uncertainty?
Or a lot, you know, like just a lot of uncertainty, like endless oceanic forests of it, like razor-sharp uncertainty seaweed swirling up to catch your limbs and drag you under. What would life be like without that? Ha ha I'll never know.
I ate a slice of cold cajun chicken pizza and a banana, and then, having probably ensured that I wouldn't chew cardboard before dinner was ready, I got down to it.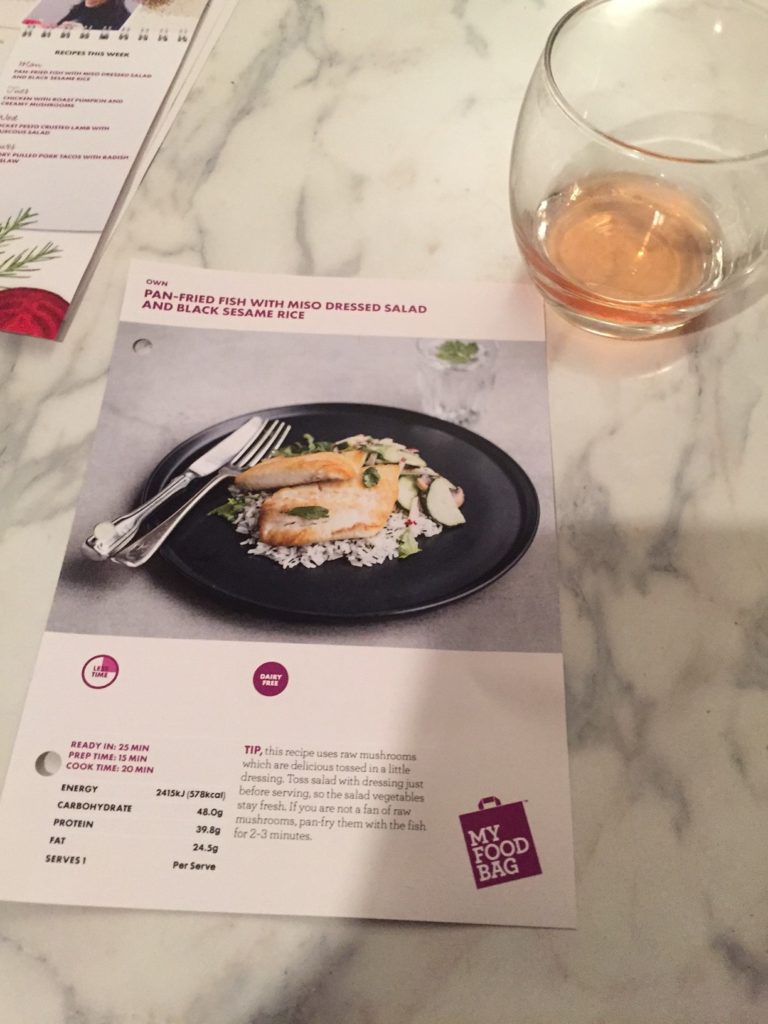 Intimidating recipe arranged on intimidating black stone plate: Nadia Lim. Mostly-drunk Negroni: model's own.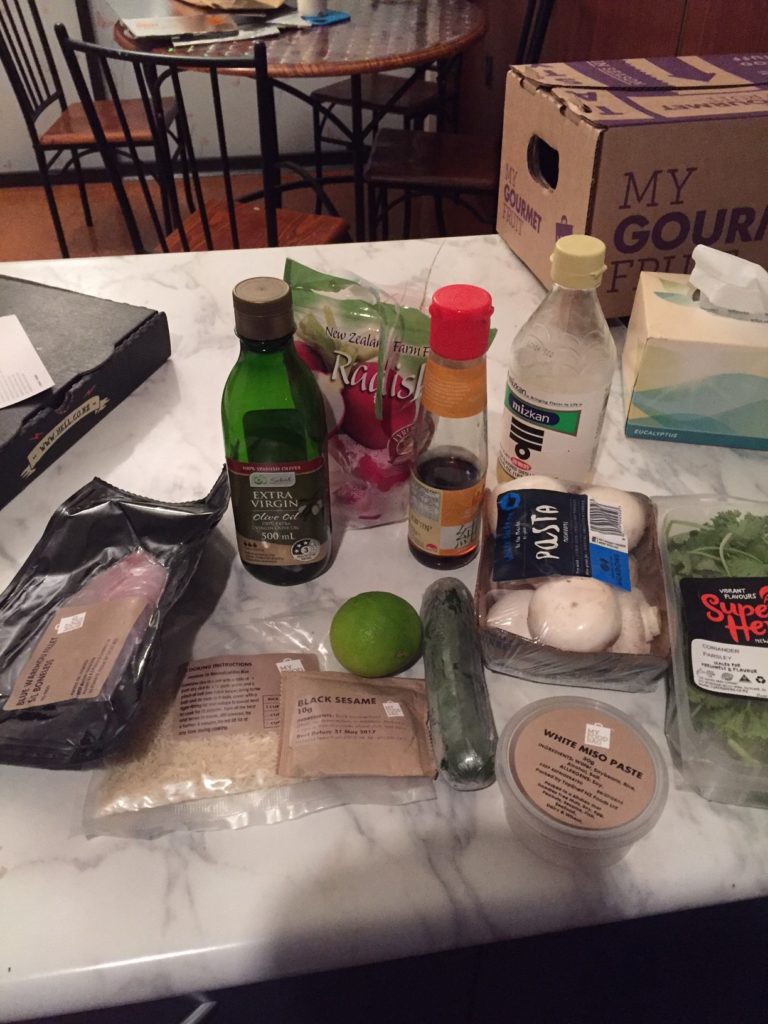 The fish was a fillet of Blue Warehou, for those who know what that is.
I got the rice going – I was to add salt and sesame oil, then add black sesame seeds once it was all done. Noooo problem! I'm good at rice!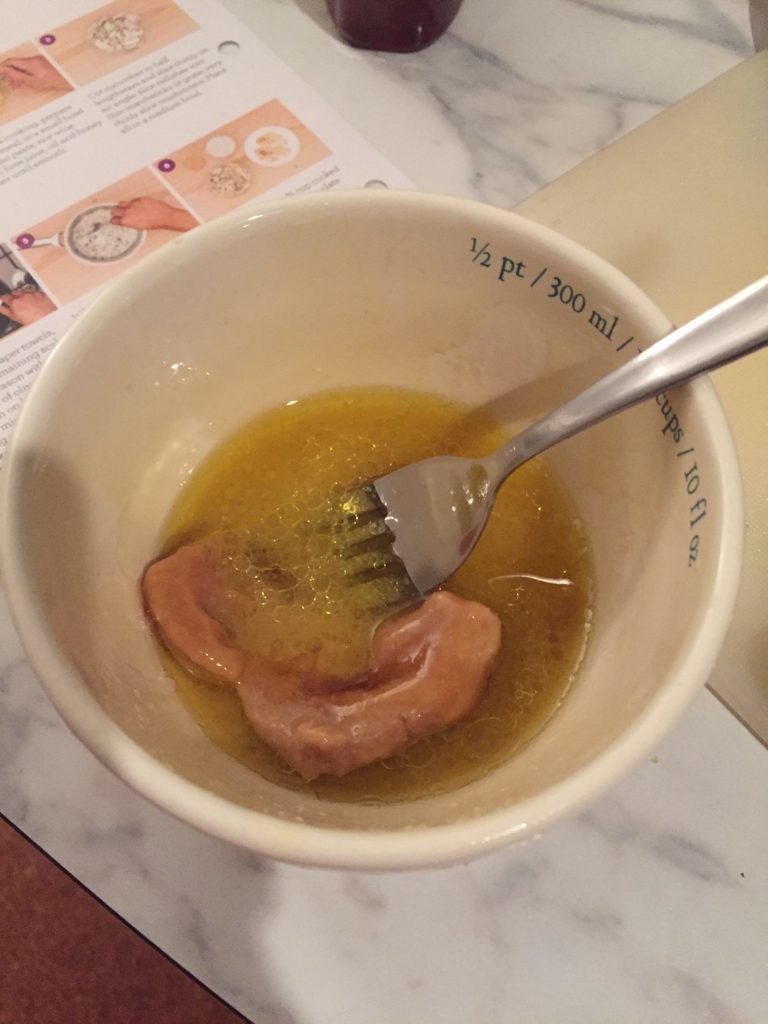 I had to stick miso paste, 2 teaspoons of lime juice (which I "juiced" by "squeezing" and "measured" by "not bothering"), some oil and something else I forget in a small bowl, then whisk until smooth. My whisk would not fit in the small bowl, but Nadia Lim used a fork, so I figured that would be fine. And it was!
So cooking was going great and every ingredient was an old friend, and then:
RADISH. I was pretty sure I probably ate it. Nadia suggested I could either grate the radishes, or cut them into "matchsticks". I grated each one until I was worried I'd hit the pads of my fingers, and then sliced up the rest.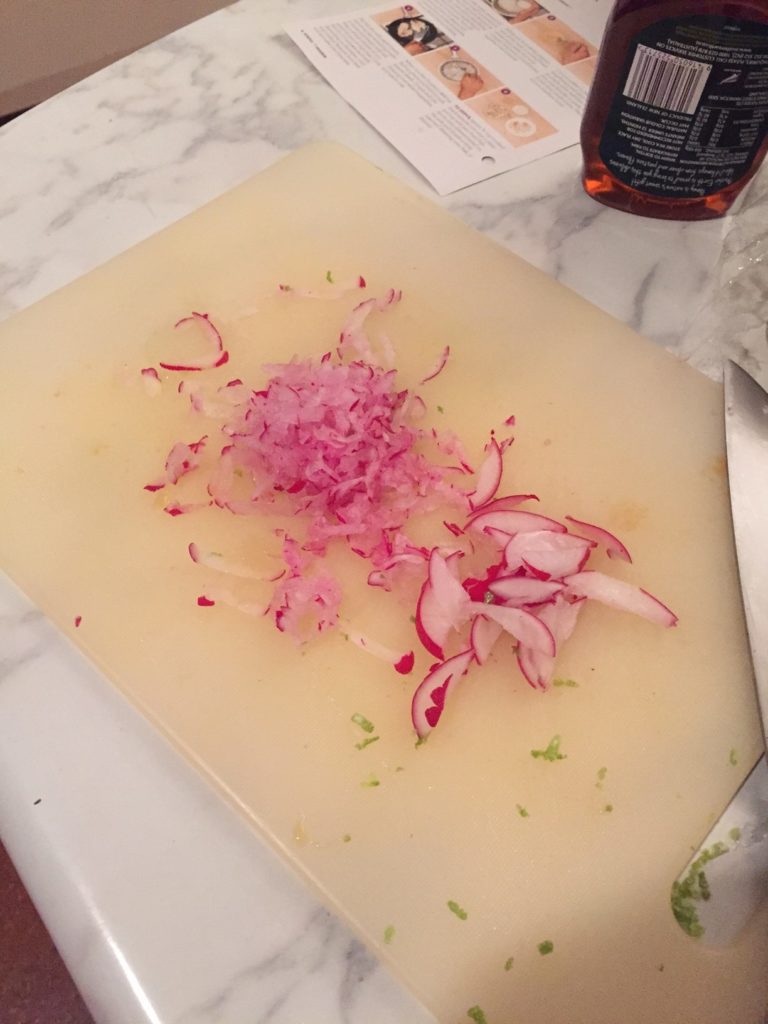 Grated radish is really pretty! Like mashed fairy wing!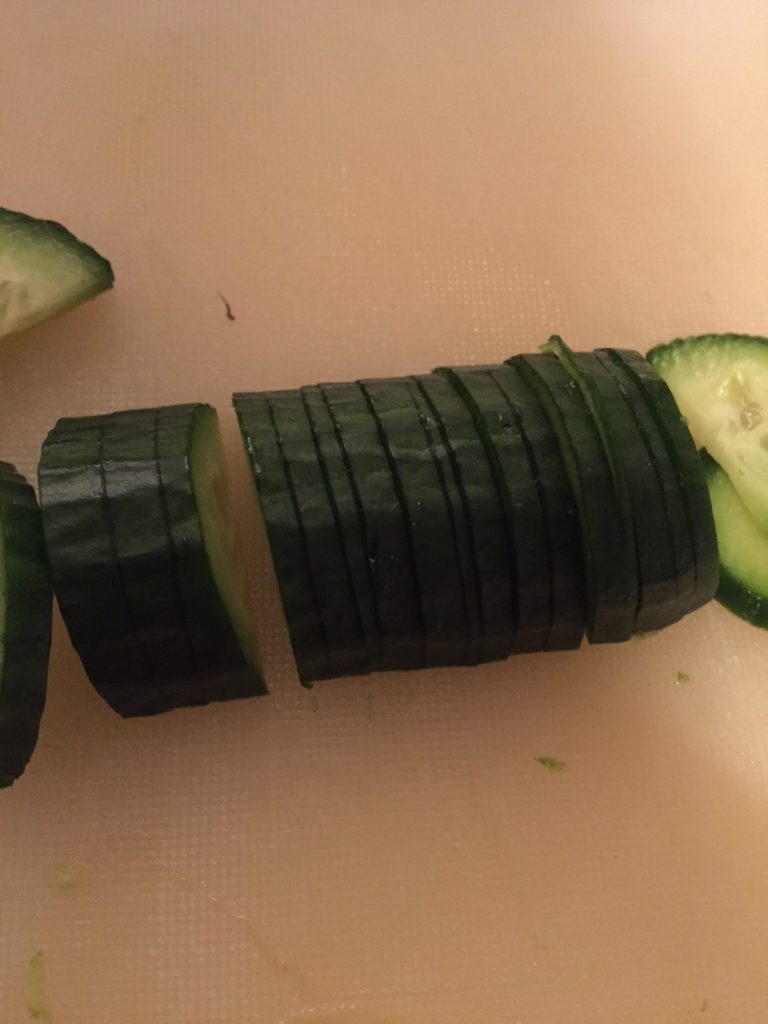 Check out the incredible evenness of those cucumber slices. That's how you know I'm nearly ready for Masterchef.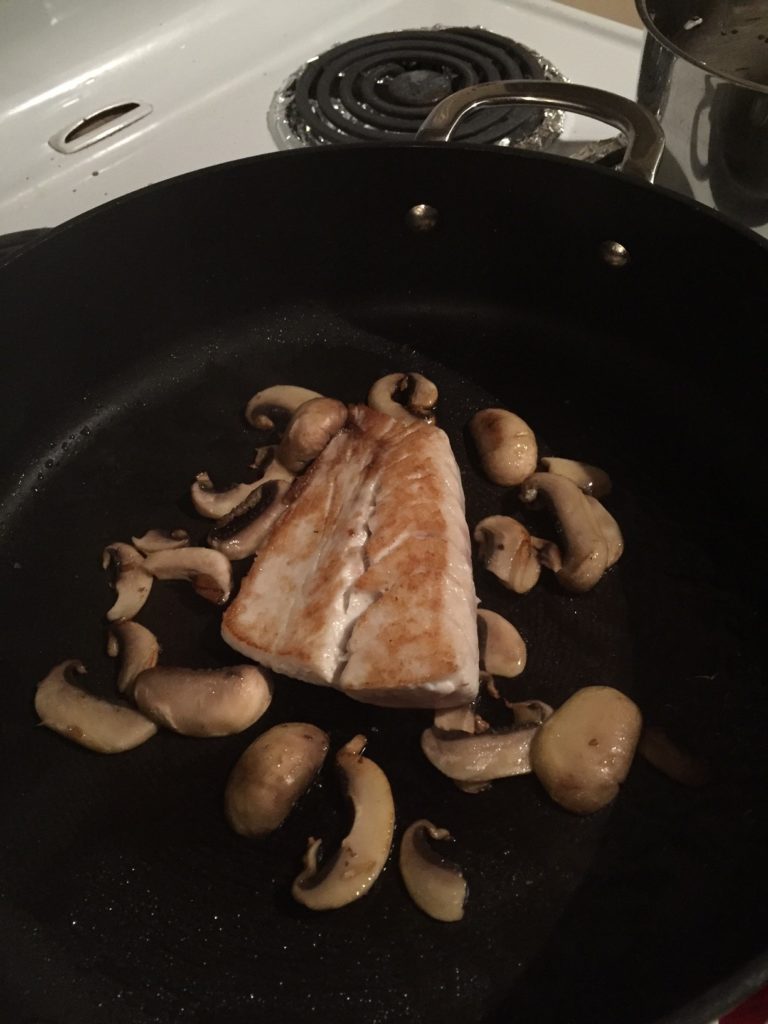 YOU GUYS, I FRIED THE FISH. The timing said "1-2 minutes on each side, depending on thickness" which wouldn't help me without a detailed analysis of the exact millimetre-to-cooking-minute ratio and maybe a helpful ruler printed on the packet, but in the end I only slightly overcooked it and I am going to count the whole meal a success.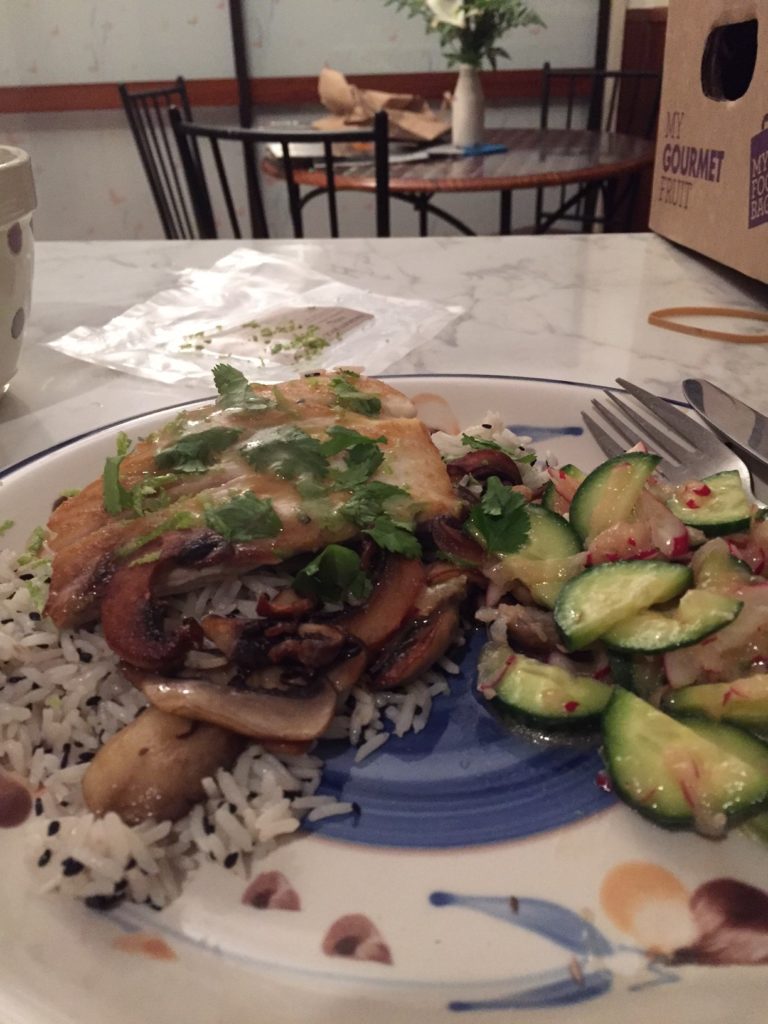 It was delicious. The dressing was tart and salty, the fish firm and filling, the rice nice, and I definitely eat radishes. Also, I had plenty of rice and vegetables left over, which I accurately predicted would be great cold for breakfast.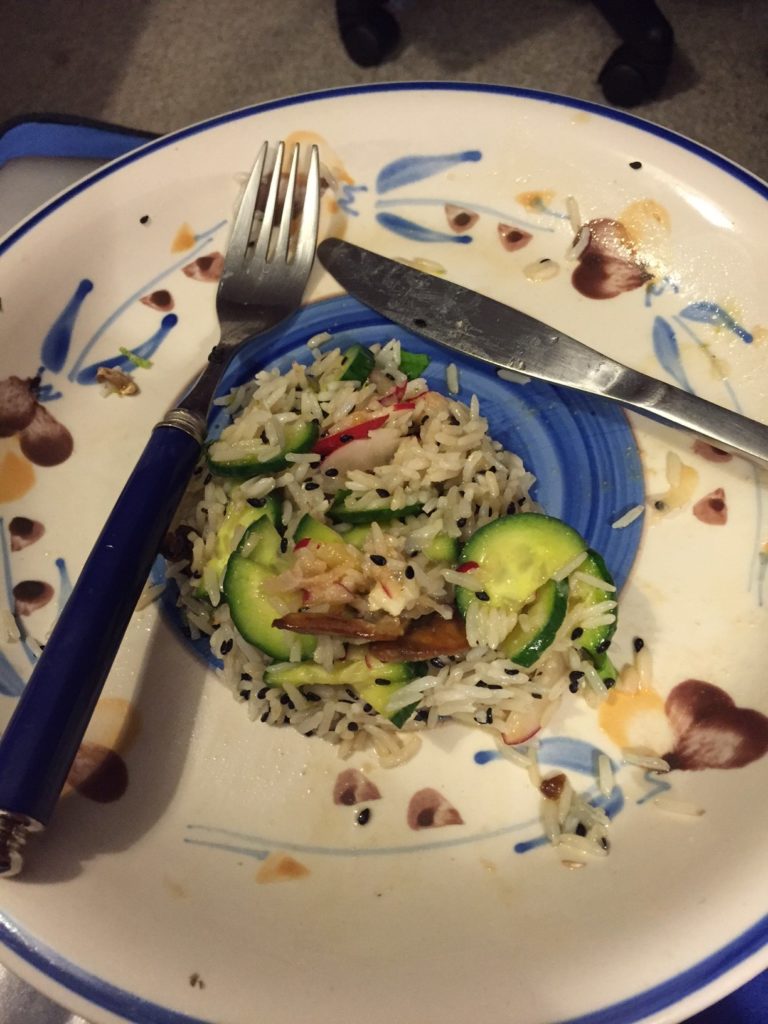 My first My Food Bag meal was a nearly perfect experience!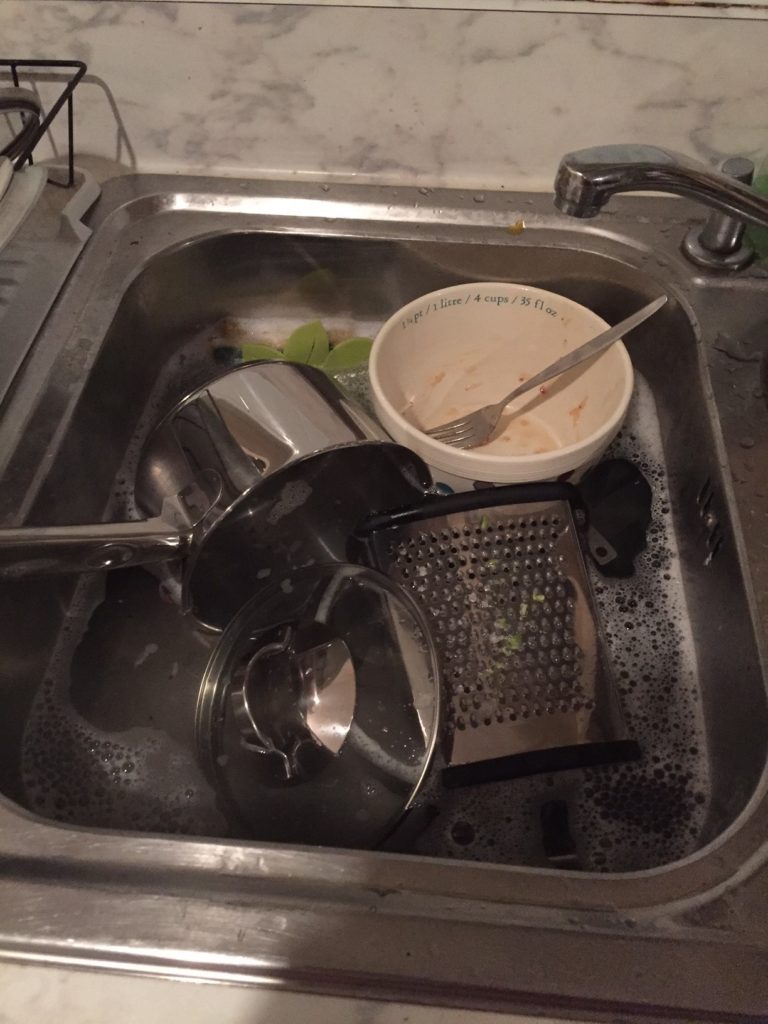 Oh, yeah. That.