My weekend sure happened.
My sister stayed Saturday night on her way back to Oamaru, so on Saturday we spent a lot of time in my room 1) eating chocolate 2) watching Jane the Virgin and 3) farting. Then she went out with friends to watch the All Blacks play someone (Wales? I think Wales) and I stayed home to vacuum my floor with our disappointing vacuum cleaner. You know, sister stuff.
My flat has a washing machine, but not a dryer, and the laundry situation was getting dire. So while she was there, and driving, we also stuffed a bag and a laundry basket full of nearly everything that was lying on my wardrobe floor and took it to Sadie's Laundry, who promised to wash, dry and fold it for me for "probably $25 to $30, love."
This sounded very reasonable. I ignored the part where I had clutched the bag with my thighs and yanked on the zip to get it closed and decided to trust the expertise of the lady who had not seen just how much I'd managed to cram into the side pockets.
"Pick it up at about 1 o'clock tomorrow," she said, which actually was a problem, because I had an all-day event on Sunday and also my sister wouldn't be there to drive me across town and back. But the laundry smelled clean and cottony, and I was already imagining filling my drawers with neatly folded stacks of ready-to-go clothing.
"Sure!" I said.
The next morning my sister farted in my room one more time for luck, and then left to go and be fabulous and daring in Oamaru. I left to go to my all-day event – a One Day Project where various intrepid film people and actors (and me) planned to recreate three films lost to time based on their titles and whatever we could glean from Wikipedia.
I arrived a mistaken hour early, so I got to sit in my host's kitchen drinking coffee and feeling shame and then walk around her house so that I could progressively stand in exactly the wrong place while she efficiently cleaned around me. It was less shameful when others arrived, and we started talking through the film concepts.
"This one should be like a fevered tone poem," said the director. "I want it to be weird, lots of harsh lighting and dramatic reaction shots that escalate to hysteria, showing her final descent into sin."
"I have to leave at noon to go pick up my laundry," I said.
I took an Uber. Christchurch has Uber now. We're very cosmopolitan.
There was a different expert lady at Sadie's Laundry, but the clean and cottony smell was the same. "This was five loads," she said, with an inflection that picked a fine path between appalled and impressed. "$56."
"Oh," I said.
"But I think $50 will be fine," she said, graciousness itself.
"Oh," I said. "Sure."
Honestly, none of this should have been an issue or taken up any of my brain beyond a rueful acknowledgement (everyone makes mistakes about the time sometimes! the laundry takes as many loads as it takes and I have enough money to cover it!), but anxiety disorder means never having to say "no worries". It's all worries, all the time, about everything. I fretted about the earliness, and the laundry cost, and the ethics of Uber, and the selfishness of taking time out of a volunteer project to handle a life necessity all the way back to the film shoot.
Then I put on a heinous curly blonde wig, made up my face to look like I was dying of hectic consumption, composed myself in rakish array on a sumptuous drapery of lushly textured fabrics and acted the hell out of being a sneering spectator at a 20s brothel. It was totally worth it.
When I got home, seven hours later, I wrestled my laundry into the house over the neighbourhood cat that likes to pretend it lives here.
"No!" I said. "Go away!" Then, to the delivery man walking slowly up the driveway: "Not you: this damn cat."
"Haha," he said, unconvinced. "Are you Karen?"
I was! It was my first Food Bag!
MY FIRST FOOD BAG. It felt like a benediction.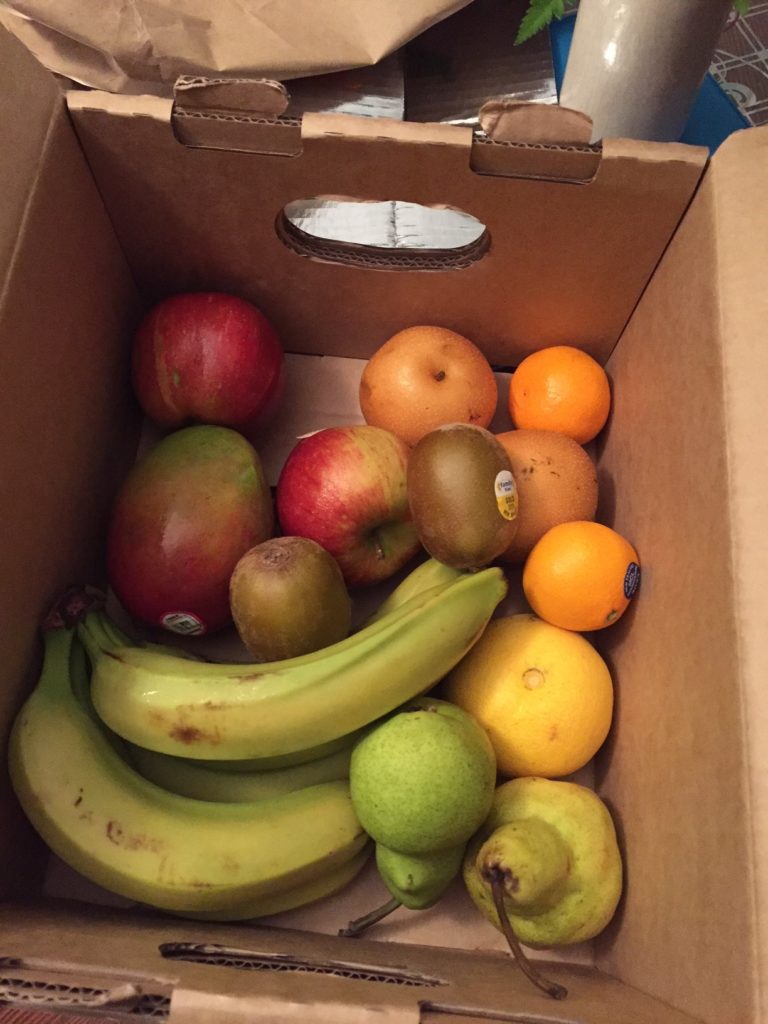 The first thing I opened was the (additional) My Gourmet Fruit box. I do not think bananas are gourmet. I do, however, think they are delicious.
What is not delicious?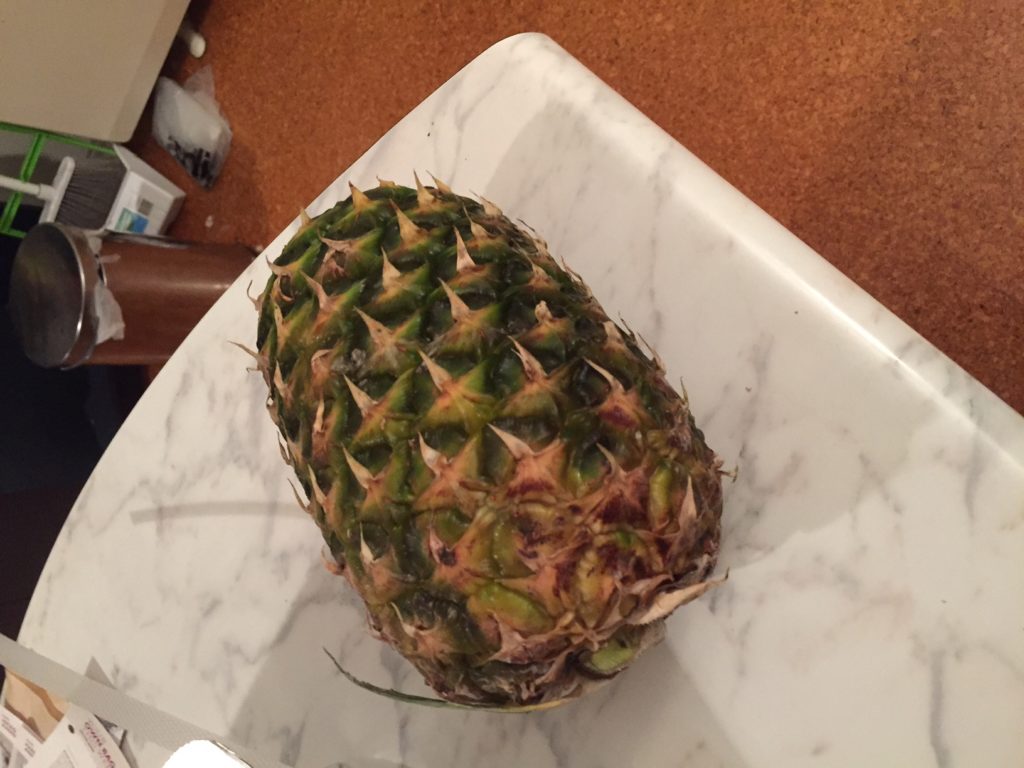 Pineapple. Pineapple is not delicious. I took this sucker to school today and gave it to an office mate.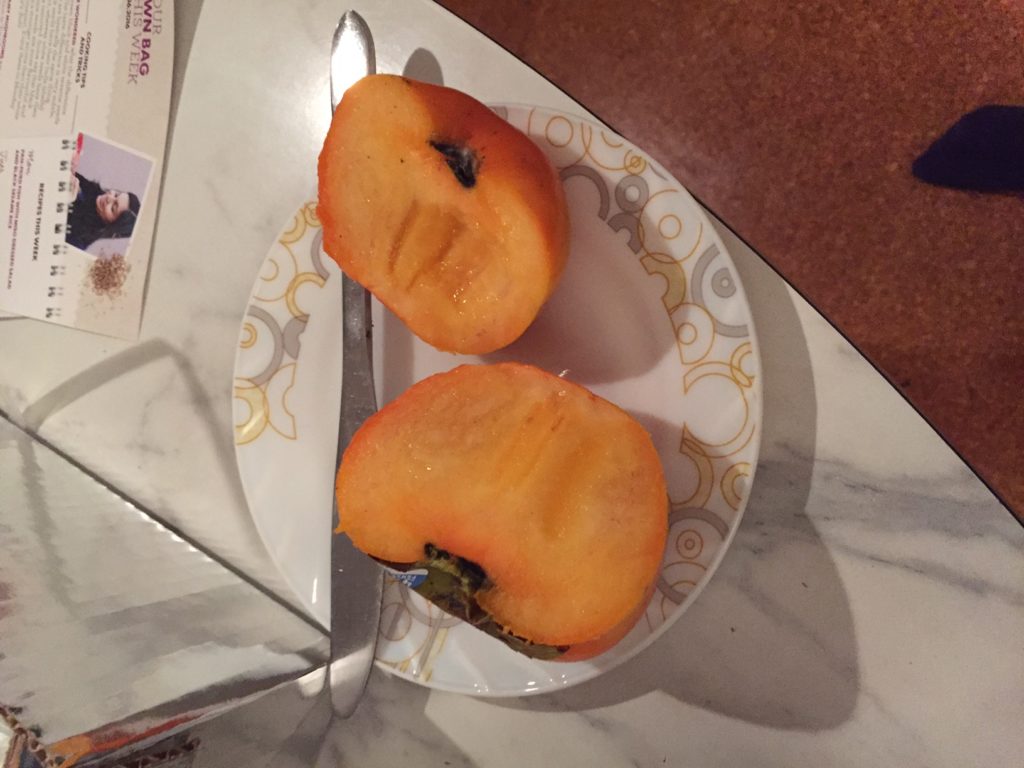 I was WILLING to eat a persimmon, but I wasn't quite sure how. I asked the internet.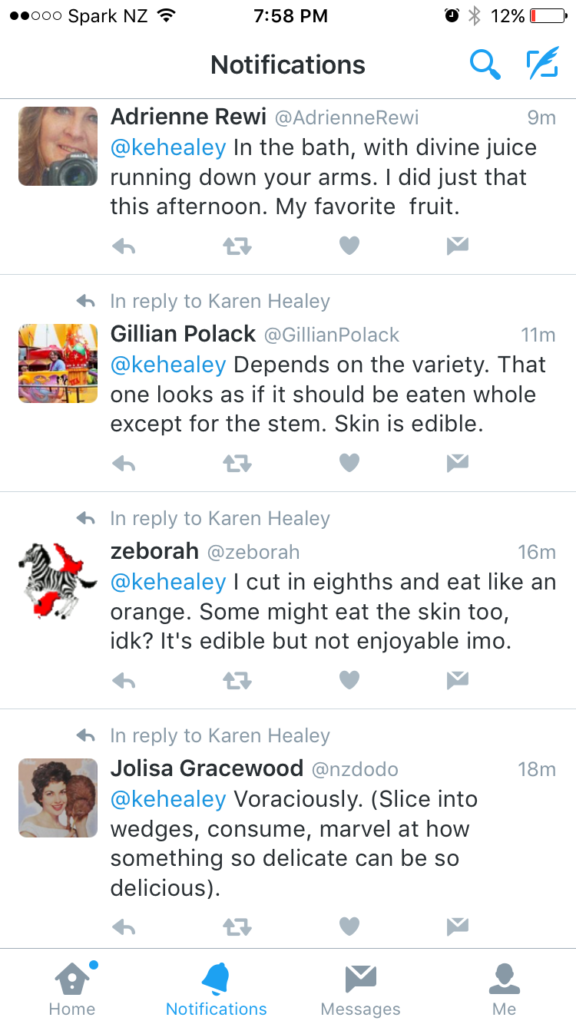 The internet had advice. I peeled the persimmon, cut it into slices, and ate it. Nice, but more trouble than I am ordinarily willing to go to for tree candy.
Here is the MEAT BOX: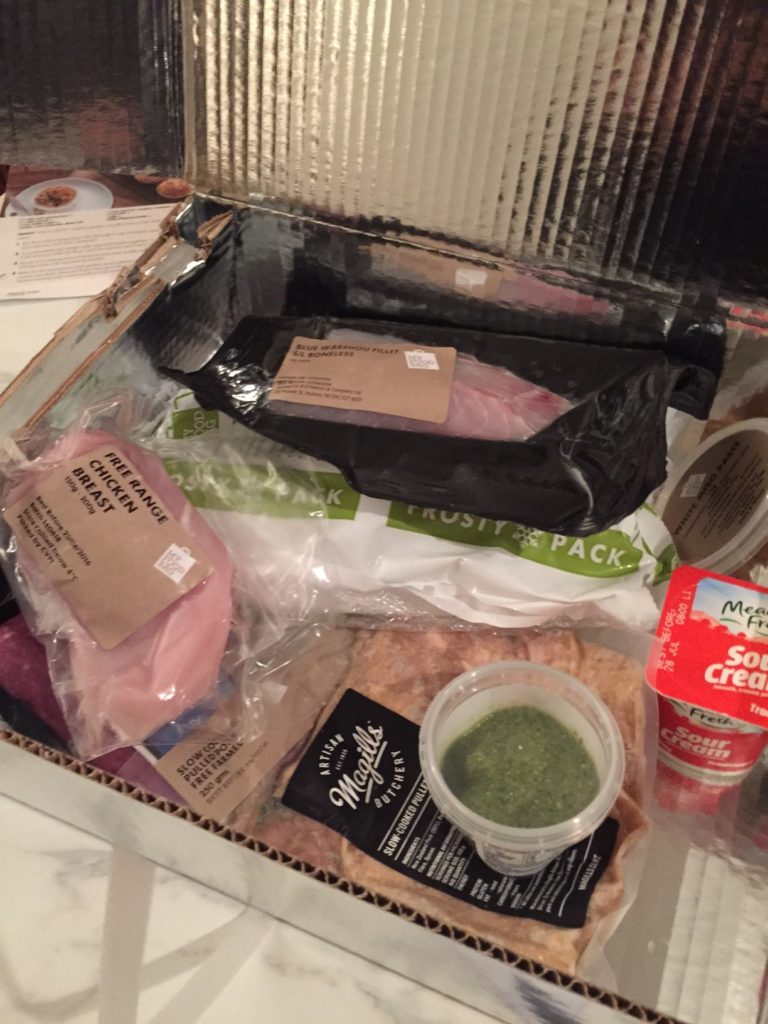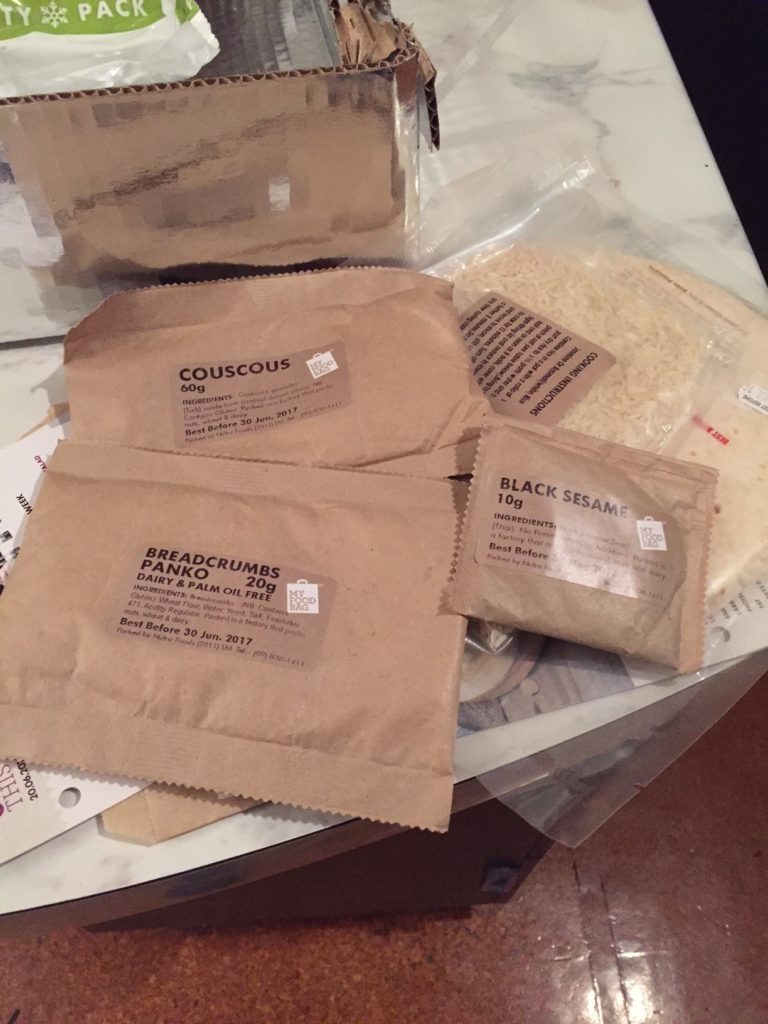 And here are my promised teeny little packets of stuff!
I still do not understand why sweet chilli sauce is a staple and rice is not, though. As far as I was aware, rice is THE staple.