When I was a kid, Dad would often, come Friday, look at the contents of the fridge, and declare it a "Bits and Pieces dinner", which meant he'd scrounge up everything with some vestige of nutritional content that required minimal effort and throw it on a plate.
We loved Bits and Pieces dinner! It was the best time! Sometimes we got chicken nuggets!
It took me embarrassingly far into adulthood to realise that this wasn't a special treat for our benefit, but the decision of a man, exhausted by a week's work teaching kids, who was utterly unwilling to put effort into putting together a real meal for yet more kids who wouldn't appreciate it nearly as much as a poached egg and some carrot sticks.
My palate has evolved a (very) little bit, but I share my father's attitude to the end of the week. Or, in this case, Thursday, where I taught all morning, and had parent interviews all afternoon and evening. It took me perceptibly longer to walk home, bones weighted down.
On Thursday night, there was no way I was making the mandated Hickory Pulled Pork Tacos with Radish Coleslaw. With the aid of the Fruit Box, I made Bits and Pieces: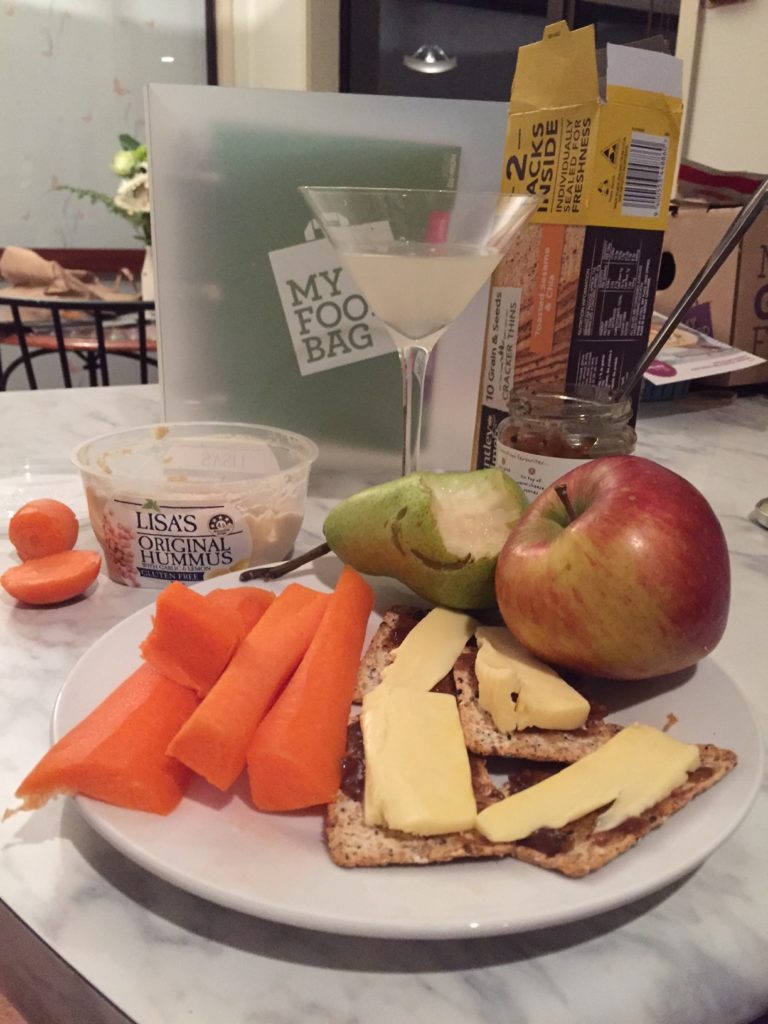 Martini non-optional.
It would have taken about two minutes more to grate the carrot and chop the apple and pear into bits, cube the cheese, and toss that all together with some balsamic vinegar and the last dribble of my good olive oil. That would have made a delicious salad, and a great picture.
I super wasn't interested in that two minutes. Frankly, it's astonishing I had the energy to hack off slices of harvarti instead of gnawing bites straight off the block. I ate most of a carrot stick and bit that pear, not because I forgot to take the picture first, but because waiting another five seconds to eat would have been totally unbearable.
I balanced the hummus tub on top and took the plate back to my room. This was a poor decision: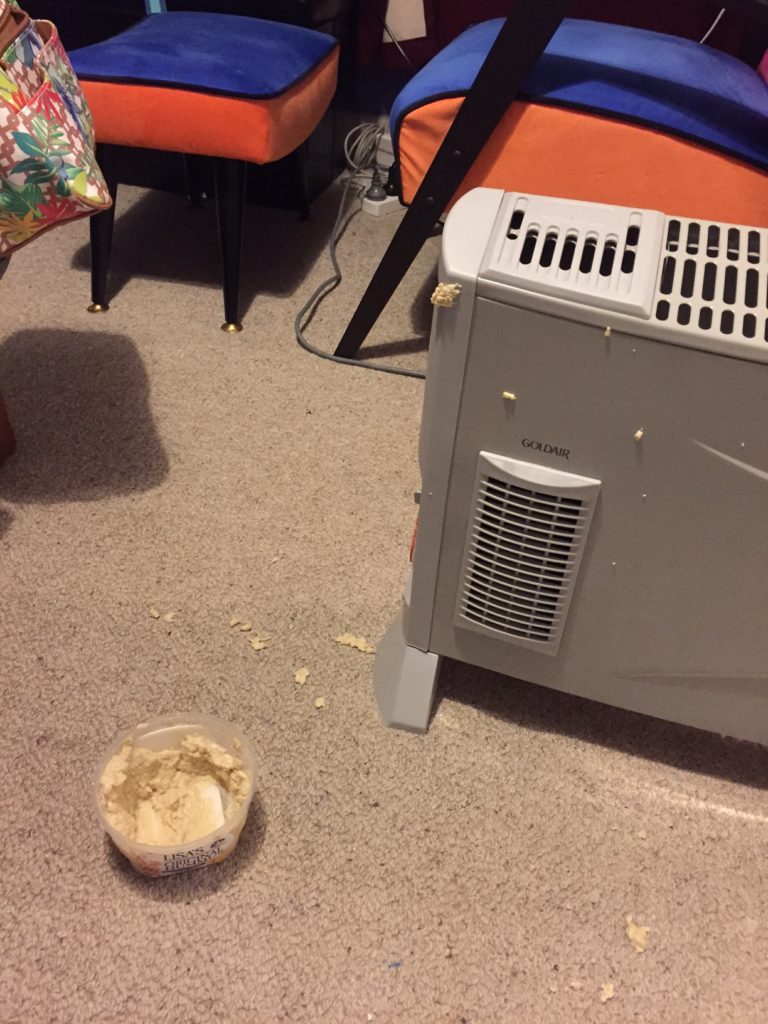 The carpet's disgusting anyway, but I did resignedly pause long enough to wipe the garlic chickpeas off the heater and scrub vaguely at the carpet. Then I had "dinner". It was awesome.
For breakfast, I've been adding fruit to my usual peanut butter and toast sandwich. Friday morning was grapefruit.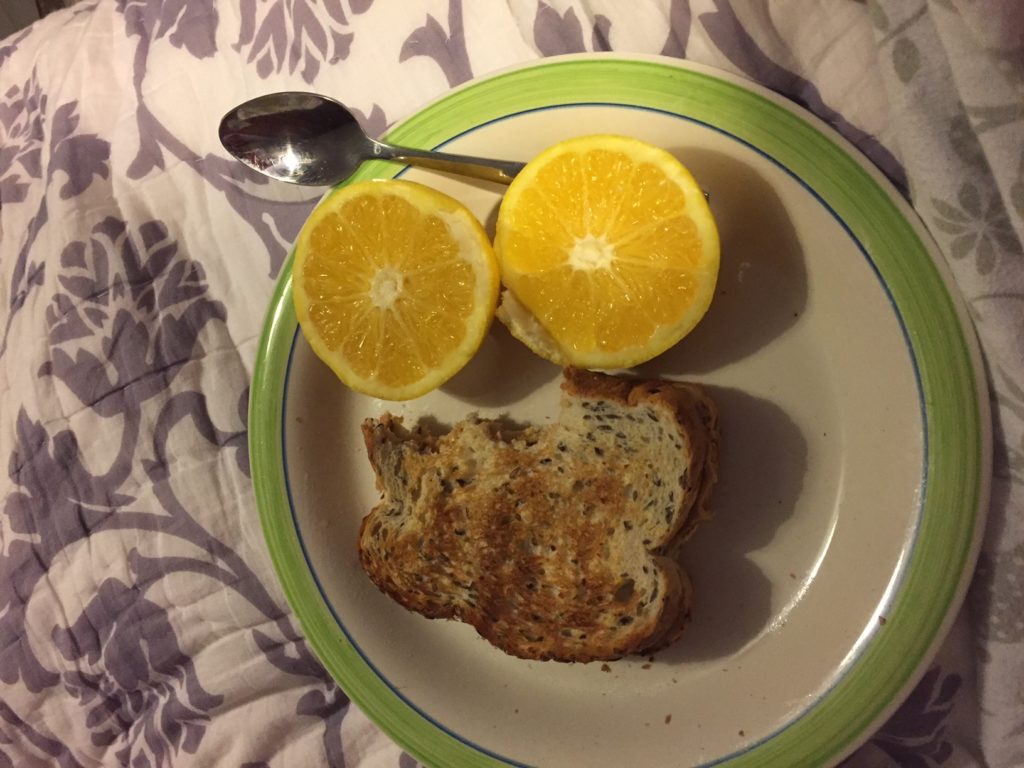 Grapefruit is gross. No more grapefruit, except in cocktails, which I should definitely have saved this for.
Last weekend I only did about three or four hours of school work, which means that I have a lot of planning and marking to do this weekend.
Happy Saturday!
But, I could brighten the day by making tacos! Never a bad plan.
Thursday: Saturday: Hickory Pulled Pork Tacos with Radish Coleslaw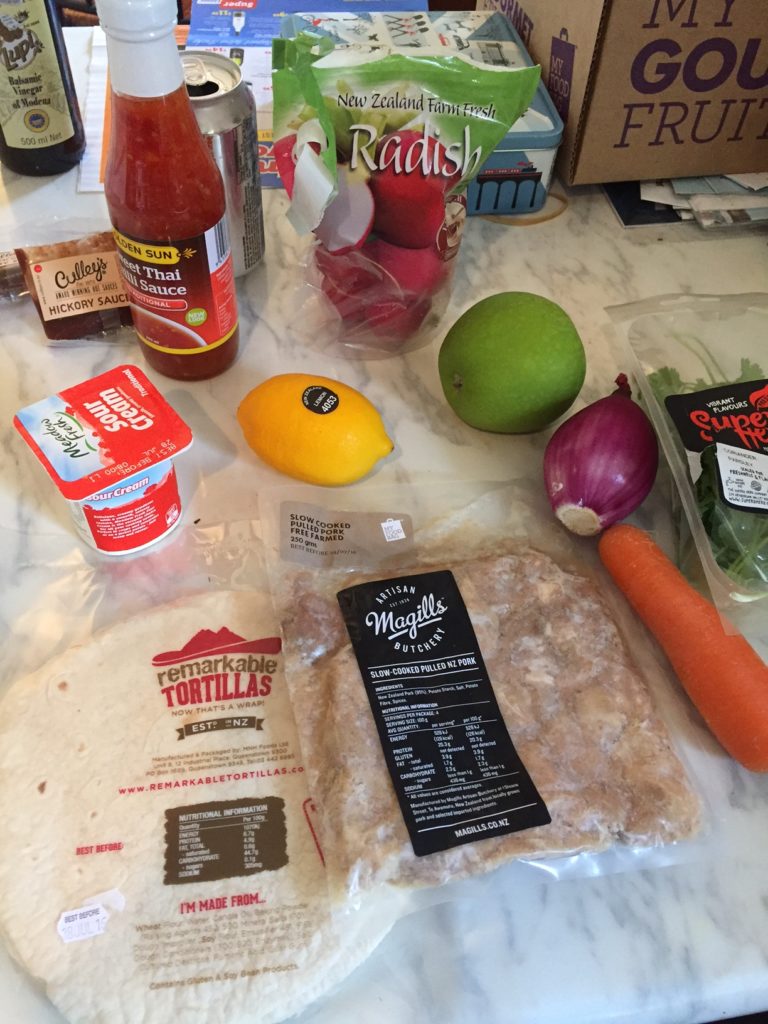 The pulled pork was pre-cooked (and pre-pulled!) in a wee vacuum-sealed bag.
I finely diced half an onion and grated half an apple and set them to fry.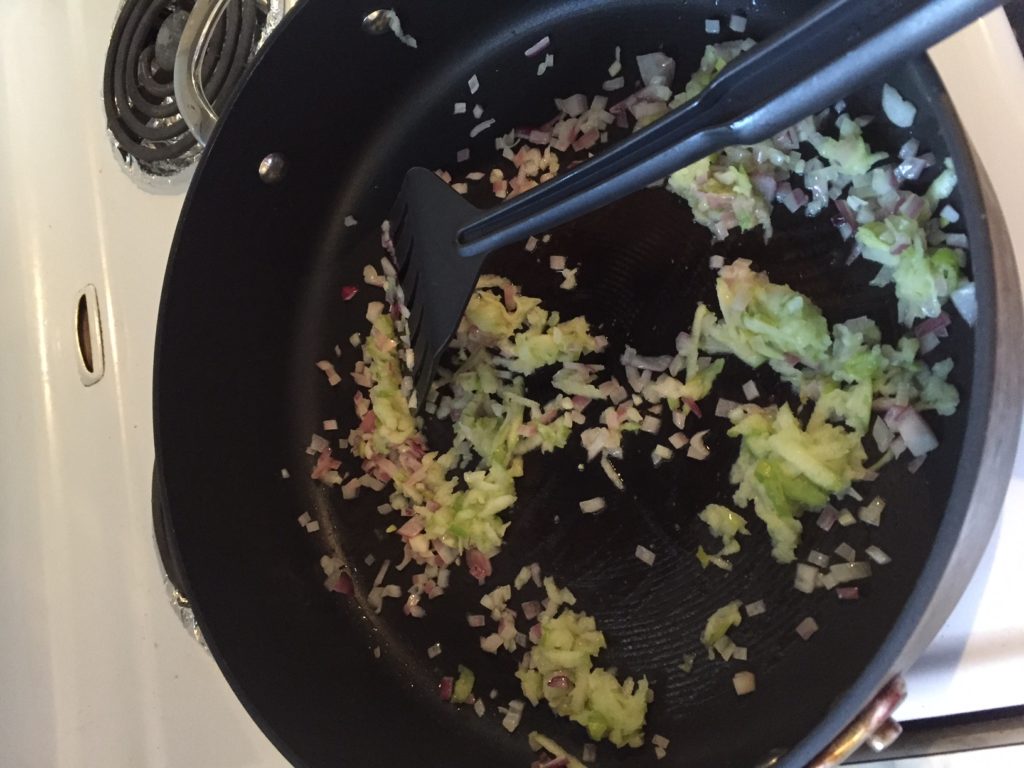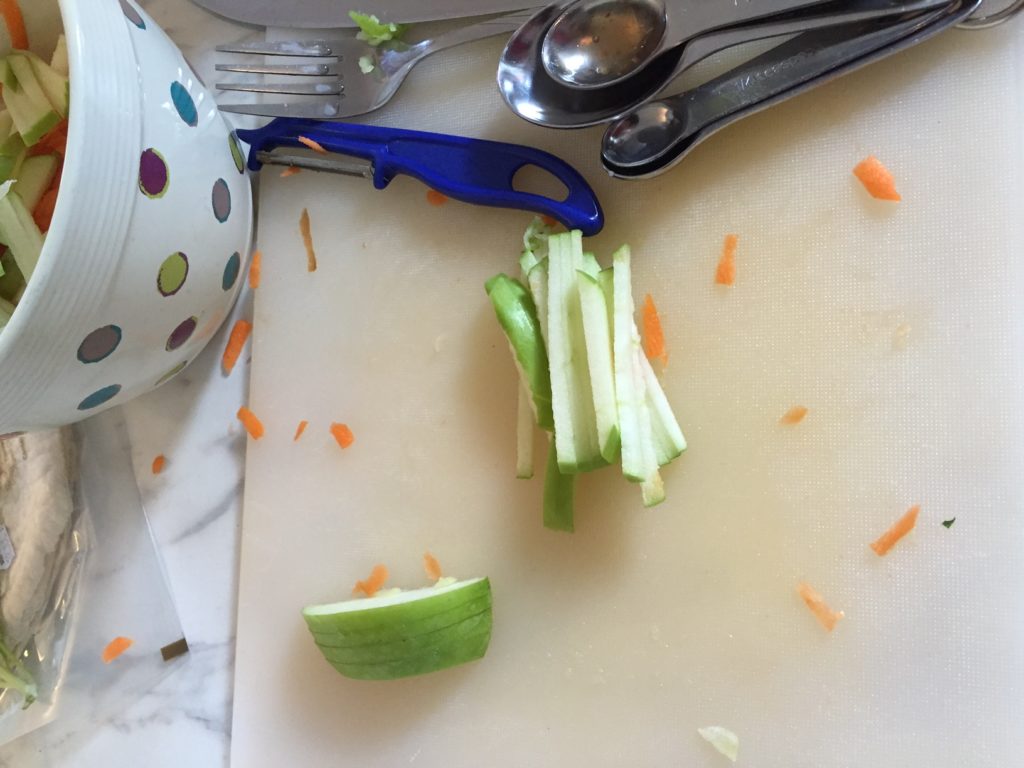 I was to put the rest of the onion and apple in the coleslaw, only – hold onto your seats – CUT UP DIFFERENTLY. I've never tried to cut apples into "matchsticks" before. Nadia is clearly obsessed with matchsticks. I'm happy to indulge her unless I'm really hungry and don't feel like screwing around. I also have vague concerns that she might be an arsonist, especially after she encouraged me to set my lamb on fire.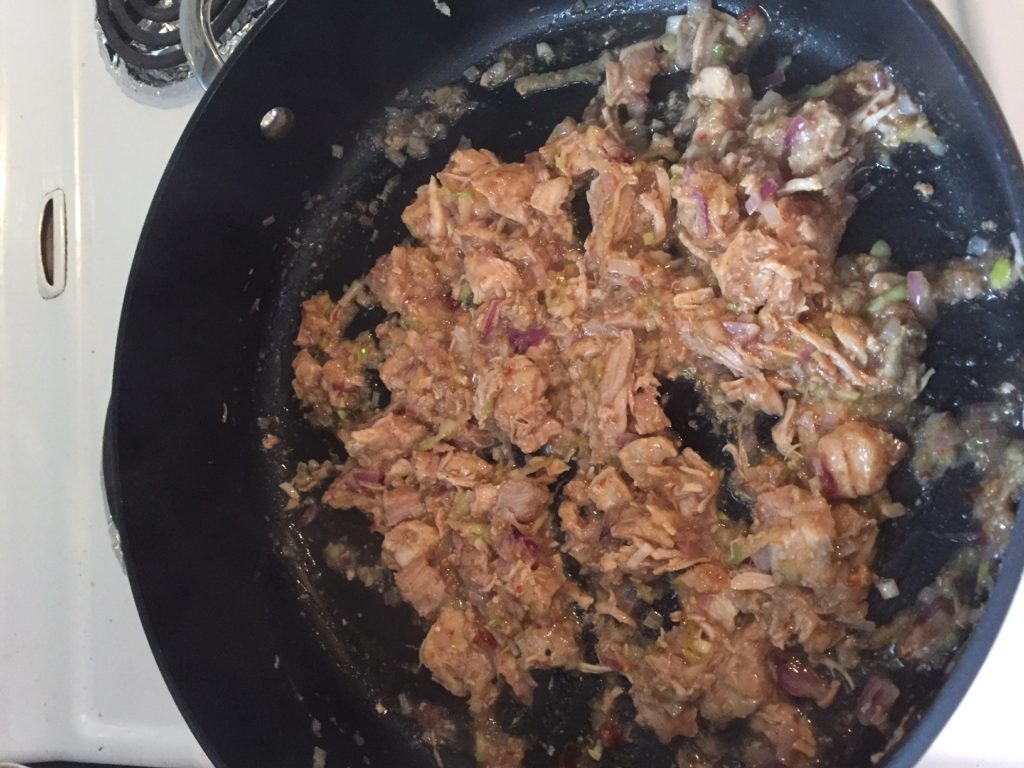 I don't mean to be indelicate, but this pulled pork looks like post-dinner.
I love this part of making tacos. It looks so organised and clear!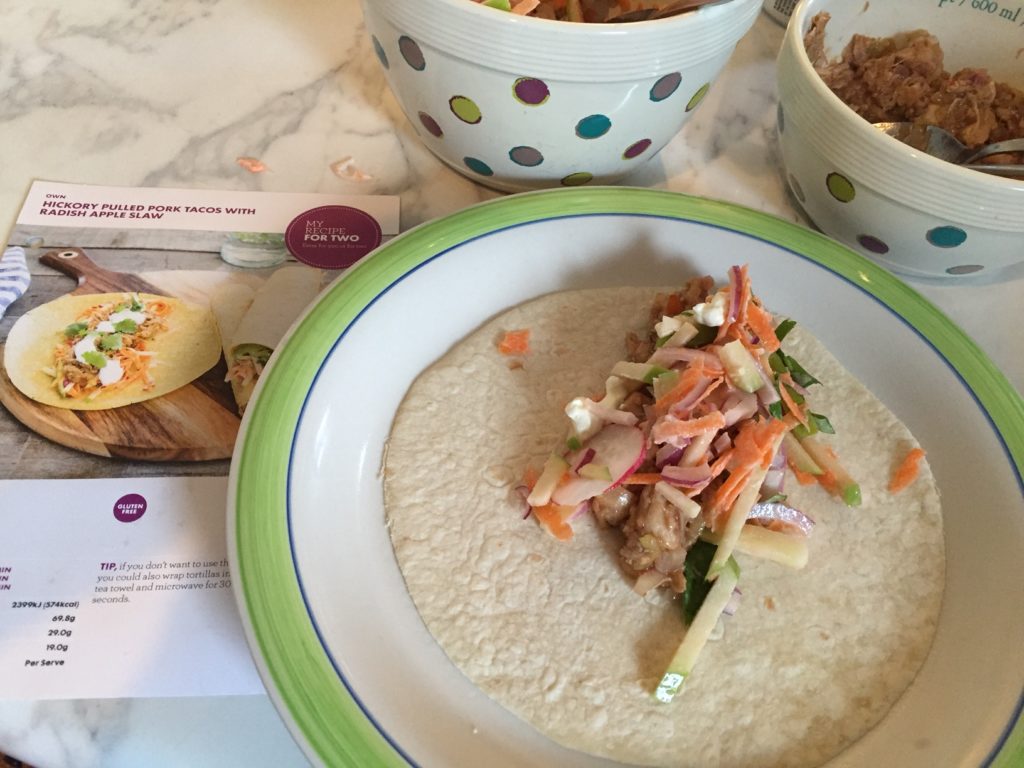 There. Actually, by the time I ate, they were getting cold, and the hickory sauce wasn't spiced to my satisfaction. But a perfectly acceptable lunch (and in two minutes, dinner) on a working Saturday.