On Tuesday night my flatmate/landlady announced that we had a mouse infestation.
She'd found mouse droppings in the cupboard where we keep the pots and pans. Dirty mouse feet had climbed over my cooking utensils, probably for weeks.
I gagged. Then I took my leftovers, leftovers prepared with moused-up pans, out of the fridge and ate them anyway, because you're NOT THE BOSS OF ME, MICE. (For the record, I don't think that the mice were responsible for what happened next, because they HAD been there for a while. They are merely a decorative detail in the rich tapestry of disgusting.)
At school the next day, I was vaguely queasy in period one. At the start of period two, I grabbed my phone, raced next door and asked a colleague to keep an eye on my class while I went to the bathroom, where I spent some time 1) [excluded for decency] 2) crying 3) sitting on the bathroom floor, wiping mascara stains off my face, and sending an email asking for someone to cover my remaining period so that I could go home and be disgustingly ill in relative peace.
It wasn't quite as bad as the moment where I saw my sister in the airport and knew that my dad was dead – nothing in my entire, privileged, extraordinarily fortunate life has ever been that bad – but it wasn't great either.
There is so much to be happy about in my life at the moment: the Nerd Degree, my recent trip to WisCon, an increasing ability and determination to write something (anything), an increasing competence and ease with teaching, supportive colleagues (who got my classes covered and me home quicksmart), incredible friends who will talk about books, politics, strange vegetables and collage supplies with equal facility.
Hashtag-blessed-but-ultimately-ungrateful because I want to be able to tell my dad about all of it and I fucking can't.
I will never be able to tell him good news again. He will never say, "That's great, honey! That's really great!" and then segue to a discussion of his golf scores. I had him for nearly 35 years, and I loved him for nearly every minute of it, and now he's gone.
Hang on, I need to get another tissue. I've snotted right through this one.
Wednesday sucked. By Wednesday night my stomach had stopped expelling everything I'd put in it. I had been inconveniently hungry the whole time, and I was done with it: it was time to eat, and I'd deal with the consequences. I turned to Nadia, and looked for the simplest thing I could find.
Monday: Wednesday: Pan-Fried Salmon with Dill Mayo and Warm Freekeh Salad.
I ditched the mayo, because salmon's pretty rich on its own, and I was planning to be less sensible than "a piece of dry toast and half a banana" but more sensible than "eggs and oil: a great idea!". I also left out the onion in the salad because raw onion isn't always pleasant in the aftertaste, and I'd experienced enough aftertaste for one day.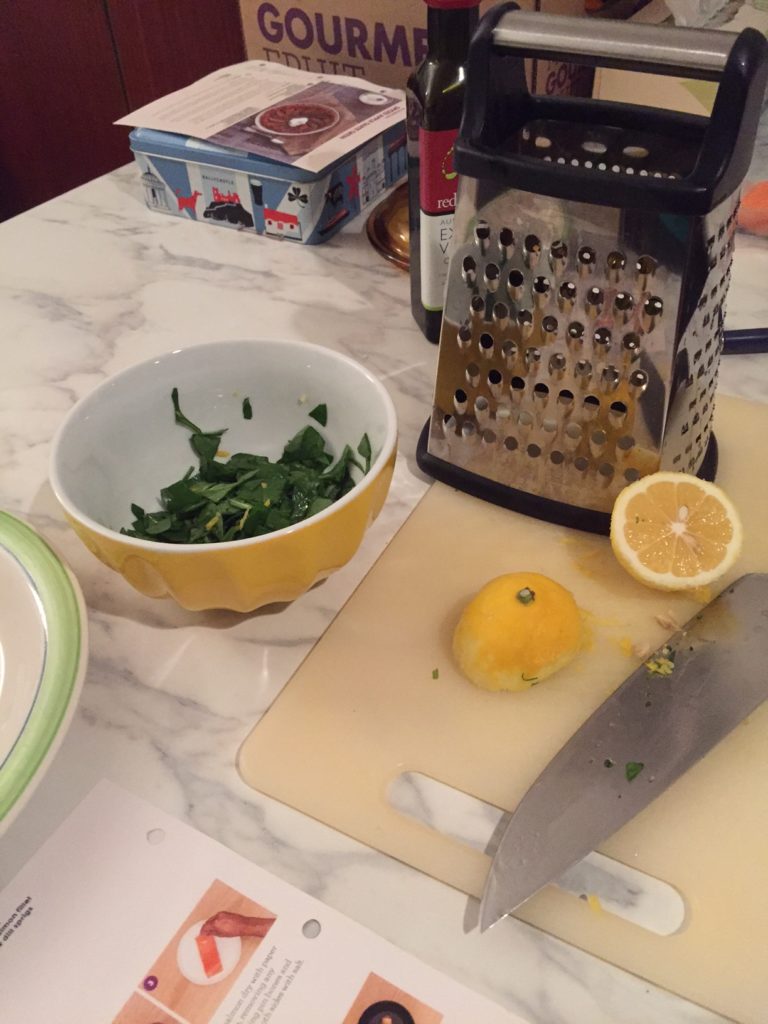 My freekeh salad thus constituted boiled young wheat grain thing (new to me; delicious) with chopped baby spinach, lemon zest, lemon juice, and a few drops of olive oil. I was very okay with this.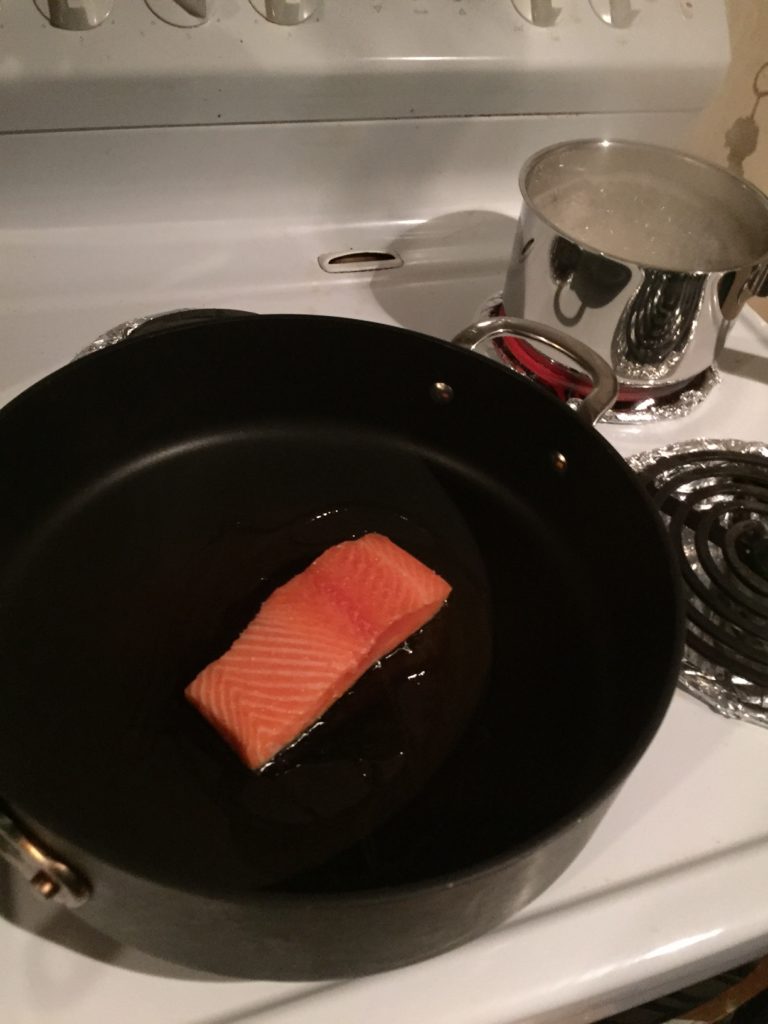 Salmon is just so pretty. I feel like it's far and away the prettiest protein.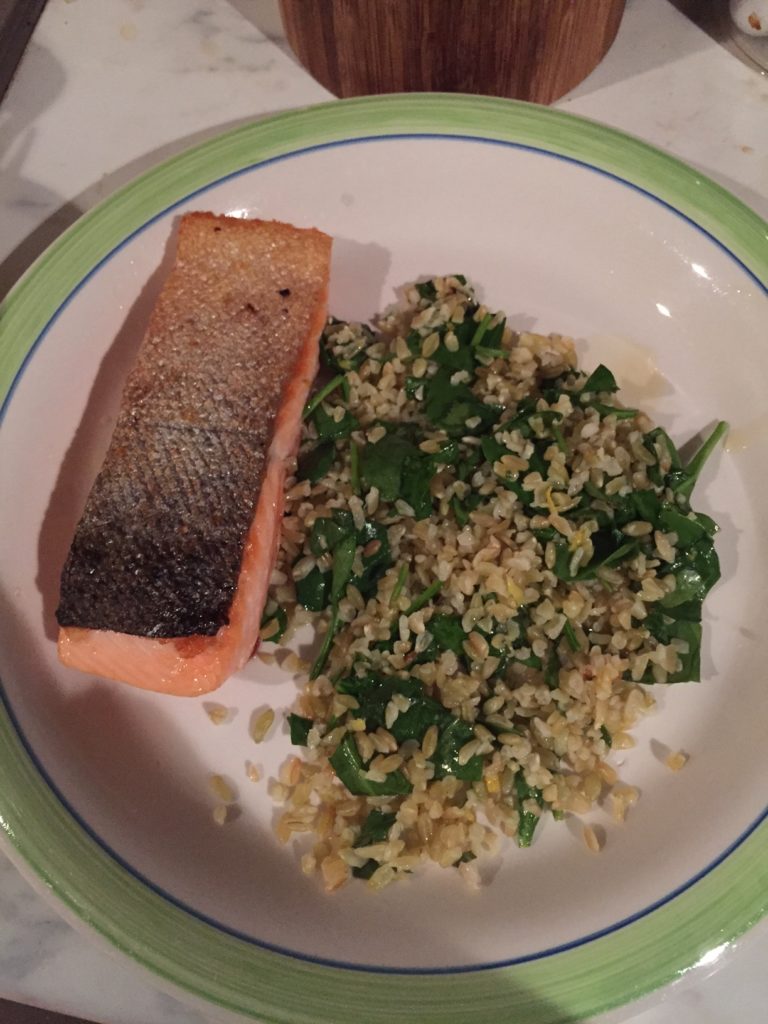 And there was dinner! It took me about an hour to eat in careful bites, while I organised relief for the next day and rubbed my aching abdominals. (Honestly, if I wanted a punishing ab workout, which I never do, I would do crunches, which I never do, so you'd think my body would get the message.)
Two hours later my body made one last grudging protest against nourishment, but I could not regret this meal. Worth it.