Countdown to term holidays – FOUR DAYS TO GO!
I may even get some marking done.
My Saturday was devoted to marking, housework, friend time and babysitting; my Sunday to brunch, art, and A SECRET PROJECT. I had a mild desire, but no pressing urge, to blog the second half of the week, and then my next Food Bag turned up (at the wrong house, but I worked it out) and it was time to start again.
So here: pictures. ALSO, are some of these turned around the wrong way for you? They frequently are for me, and even when I get them right on my desktop they're wrong on my phone. If you know how to fix it, please tell me.
Wednesday night was a tasty lamb and roast vege salad. The most exciting thing that happened in its creation was that I ran out of baking paper and used foil instead; also that I added potatoes and carrots to bulk it out and got three meals out of a recipe for one. Nice, self, nice: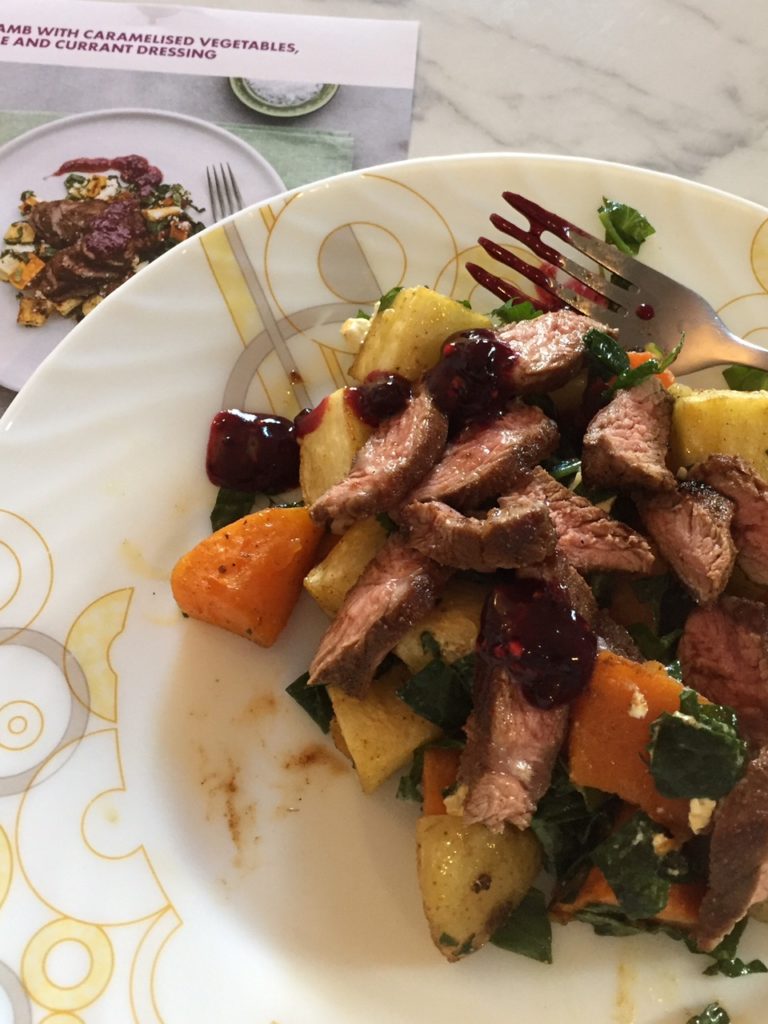 Thursday's Sunday's roast potato salad with egg aioli had more interest in that it required me to grate hard-boiled eggs.
GRATE them! I never knew this was a thing that could be done with eggs. But it can, and it was delightful to carefully drag each egg against the grater and watch it crumble obediently through the holes. I have never grated anything with more ease; not even apples.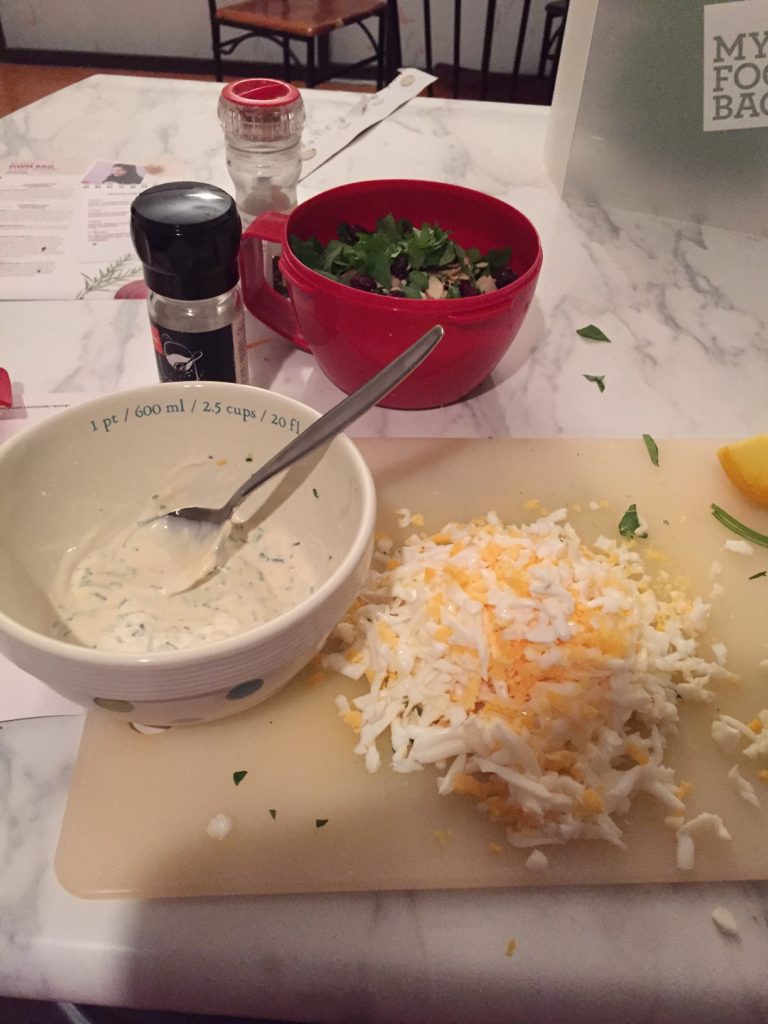 And here's what the whole meal looked like: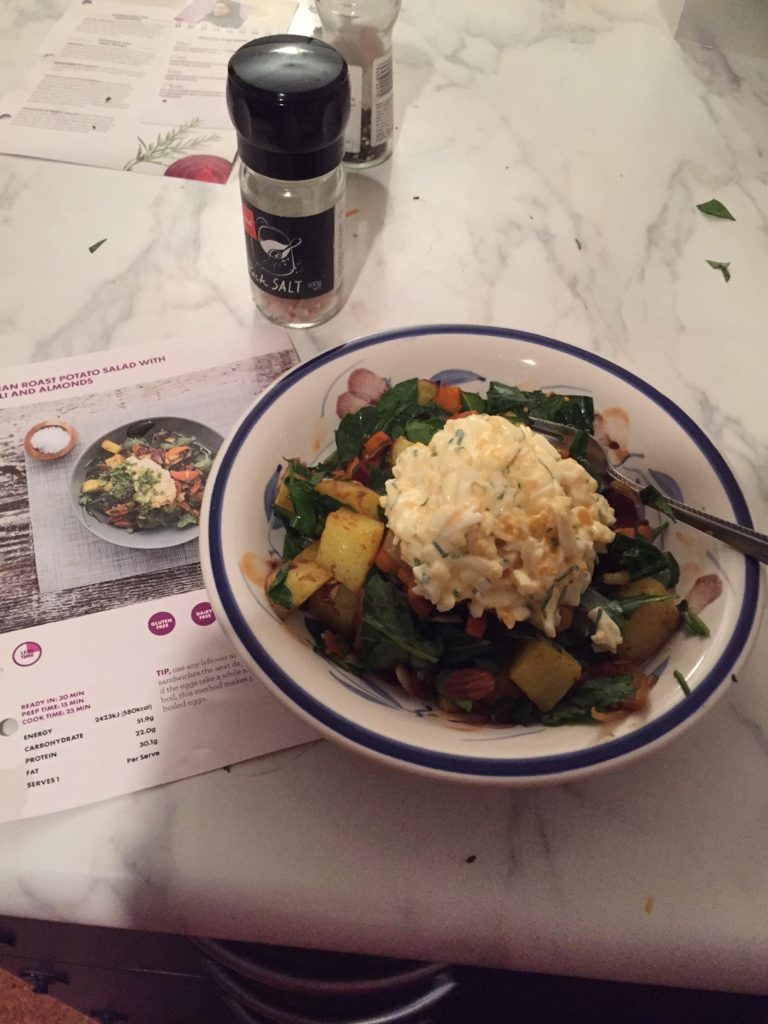 On Sunday evening, I retrieved my food from the wrong doorstep (we have an idiosyncratically-placed mailbox, and honestly I was expecting this at some point) and opened the fruit box to find NO PINEAPPLE. Huzzah! Instead, there were dates, grapes (niiiice) and a disconcertingly sexy pear: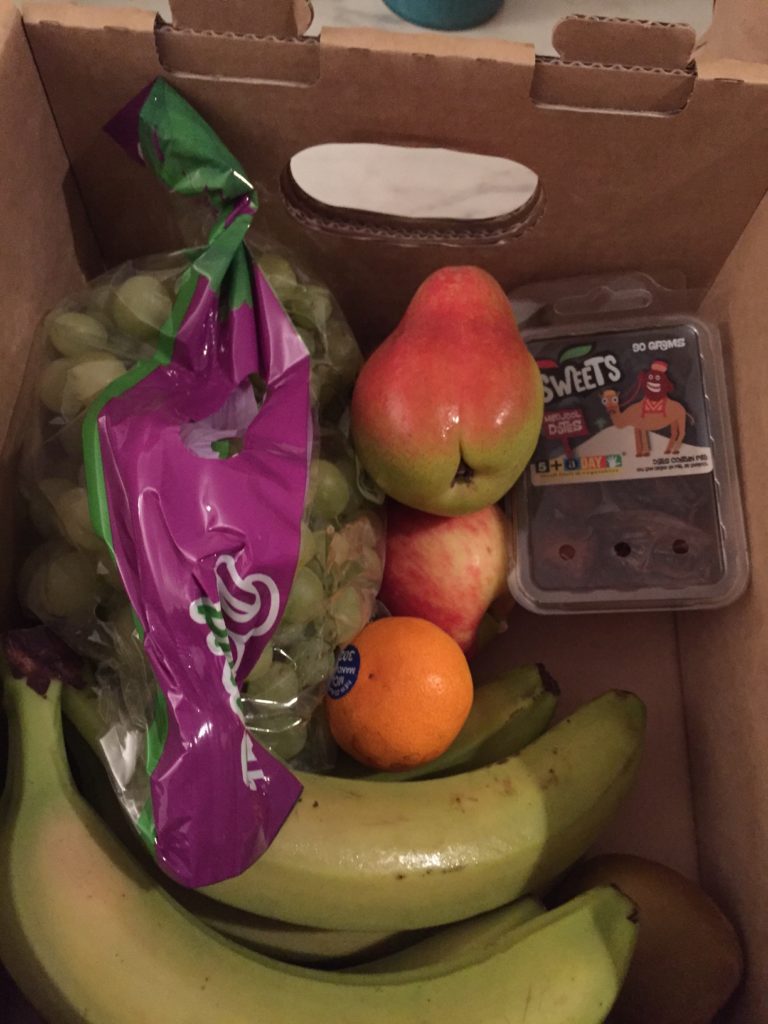 Tonight's dinner was Fish with Smoky Colcannon Potatoes and Kale (Go On Karen It Won't Kill You) and also Broccoli Salsa, I Bet You Didn't Know Broccoli Could Be Salsa.
I chose to recognise this as a knowing nod to my Irish ancestry. Six years ago I visited Dublin for three days and ate a cobb salad at the Hard Rock Cafe in Temple Bar, and ever since I've felt very spiritually connected to my Celtic roots.
(I also went to a W. B. Yeats exhibition and detailed for my companion what a total Nice Guy he was. IF SHE SAYS NO TO THE FIRST PROPOSAL, WILLIAM, THAT IS A SIGN. YOU'RE NOT MR DARCY.)
All my cooking life, whether I have steamed it or tossed it in a stirfry, or thrown it into a quiche, I have cut up broccoli one way: I have taken the little tree of the broccoli head and turned it into tiny trees. Sometimes half or a third of a tiny tree, depending on the size of the mouthful I wanted, but the basic tree shape was still discernible.
This time, Nadia instructed me to "finely chop" my broccoli in preparation for weirdo not-salsa, so my tiny trees look like I fed them into a tiny woodchipper: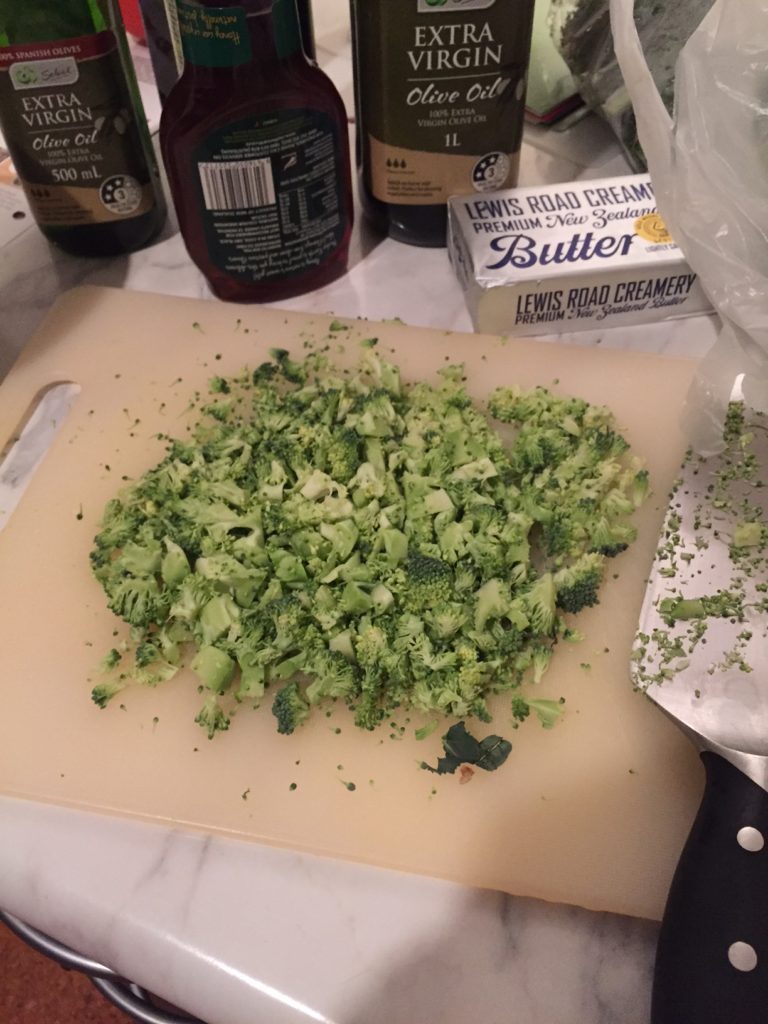 I was supposed to "smash", not "mash" the potatoes. Wooden spoon, not masher. This could be fun on more frustrating days.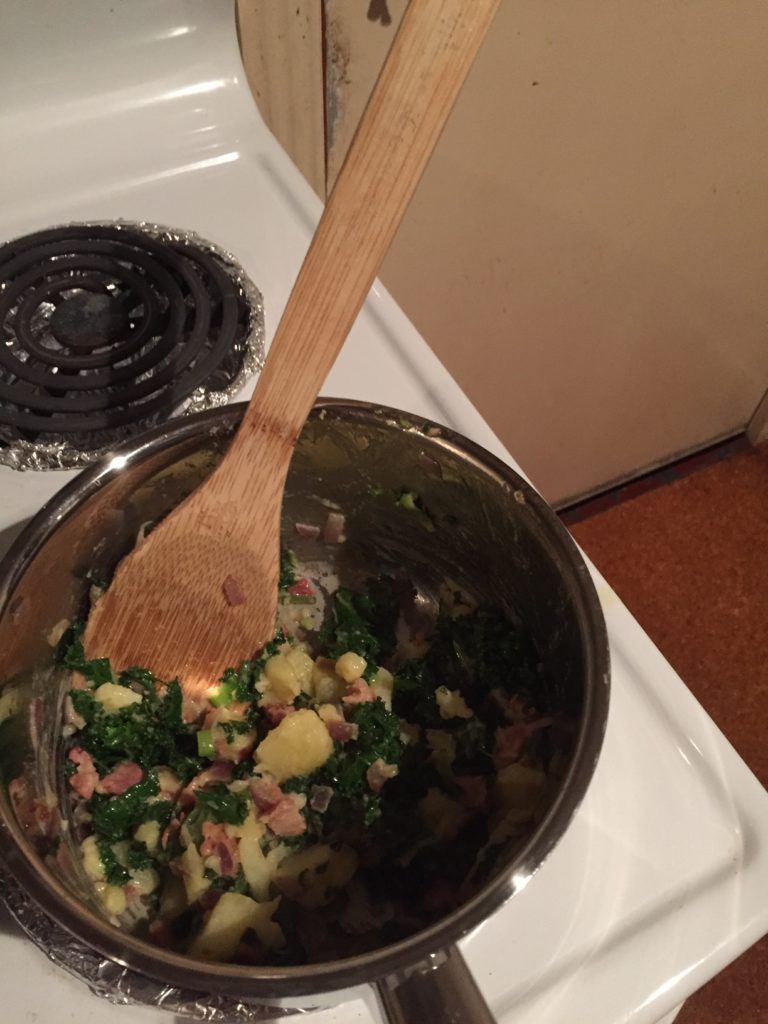 And here is the fish and colcannon, looking not very like the picture at all: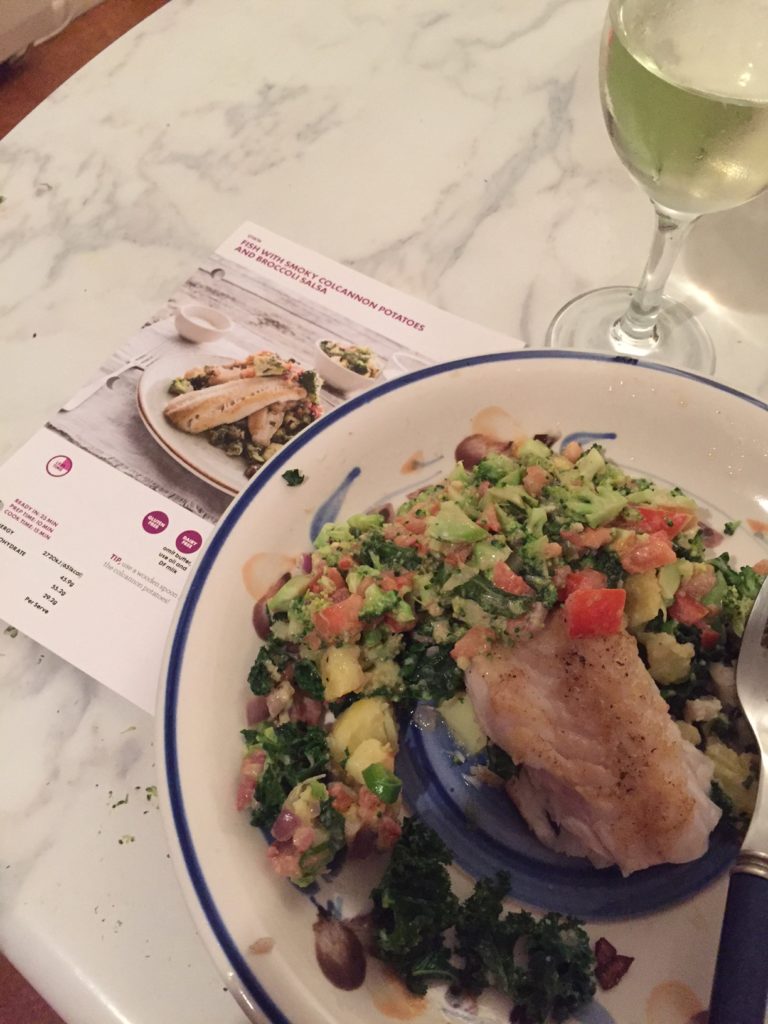 Actually, this is about half of it; this was a really huge recipe for one meal, and I put the rest aside for tomorrow's lunch. I didn't even eat everything on the plate. Yeats' revenge!