I mostly write novels, but I do occasionally publish other things.
Essay Collections: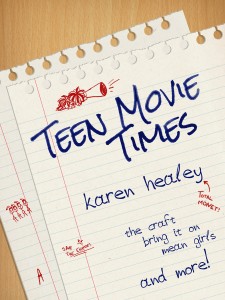 Teen Movie Times is an expanded ebook collection of my 2012 essays on the themes and messages provided in eight popular teen movies. It contains exclusive content, including an ebook-only essay on The Craft
Teen Movie Times is available at Smashwords, the iTunes store and Kobo.com!
Short Stories:
"Mrs Beeton's Book of Magickal Management", first published in Willful Impropriety, edited by Ekaterina Sedia.
"The Unicorn Bell", first published in Tales for Canterbury, edited by Anna Caro and JC Hart.

"Queen of the Kitchen", a gift to my readers.